Edward K. Dunn, Jr.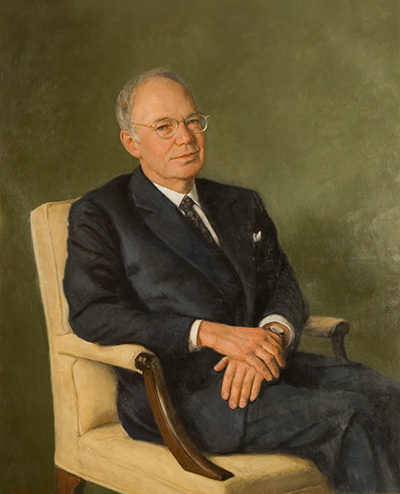 Make a Request
Edward K. Dunn Jr.
1935-
Dunn, a board chairman for the Johns Hopkins medical divisions, was born in Baltimore. He earned an A.B. from Princeton University in 1957, and an MBA from Harvard University in 1960.
Dunn worked for Robert Garrett & Sons, Inc., eventually achieving the position of President and Chief Executive Officer. In 1974, he became a general partner at Alex. Brown & Sons.
He is a past president of Mercantile Safe-Deposit and Trust Co. and its parent company Mercantile Bankshares. After his tenure as president of Mercantile, he was chairman of the board of the Mercantile Mortgage Corp.
Dunn's civic engagements include acting as chairman of the development committee of the Archdiocese of Baltimore, and vice chairman of The Johns Hopkins University and the Robert Garrett Fund for the Surgical Treatment of Children, a fund established by Mary Frick Garrett Jacobs in her first husband's honor.
Dunn has been on the boards of trustees of Johns Hopkins Medicine, The Johns Hopkins Health System and The Johns Hopkins Hospital, serving as chairman of all three boards. He remains an honorary trustee of all three organizations.
Dunn has served as director of AEGON USA, AIM Funds, Baltimore Equitable Society, and PAICE Corporation. As a civic leader, Dunn has been a trustee of the Marion Burk Knott Scholarship Fund, Evergreen House Foundation, Baltimore Community Foundation, Greenmount Cemetery, the Thomas Wilson Sanitarium, the Anna Emory Warfield Fund, the Ralph C. Heller Foundation, the Gottschalk Foundation Inc., and The Johns Hopkins Hospital Endowment Fund.
"*" indicates required fields