William Howard Zinkham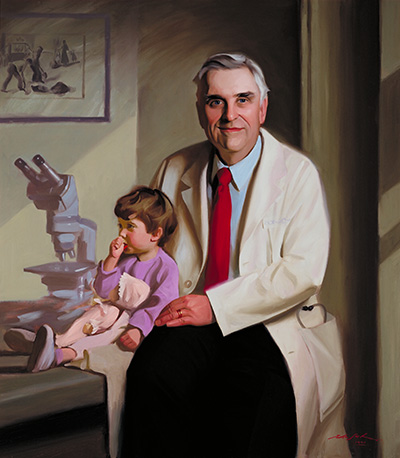 Make a Request
William Howard Zinkham
1924-2021
Zinkham, a professor and administrator in pediatrics at Johns Hopkins, was born in Uniontown, Maryland. He earned an A.B. from The Johns Hopkins University in 1943 and an M.D. from the Johns Hopkins University School of Medicine in 1947. He then served as assistant resident and senior assistant resident in pediatrics at The Johns Hopkins Hospital.
After completing his residencies in 1950, Zinkham left Johns Hopkins to become a research fellow in pediatric hematology at Children's Hospital Medical Center, Harvard Medical School. He then spent two years in the United States Air Force before returning in 1954 to Johns Hopkins for a one-year research fellowship in hematology at the school of medicine.
Zinkham joined the faculty at the school of medicine as instructor of pediatrics in 1955, while serving as chief resident in pediatrics at The Johns Hopkins Hospital. In 1957, he was appointed assistant professor of pediatrics, and rose through the academic ranks becoming professor of pediatrics in 1972 and professor of oncology in 1975. Throughout the 1970s and 1980s, he held several administrative posts, including program director of the pediatric general clinical research center, director of pediatric hematology and oncology, and director of pediatric hematology. In 1977, he was named Distinguished Service Professor in the department of pediatrics and in 1986 was named Rainey Professor of Pediatric Hematology.
Zinkham devoted much his career to basic research in hematology, focusing his work primarily on the exploration of red cell enzyme disorders. An extension of these studies was the demonstration that unstable hemoglobins were also a cause of a unique susceptibility to fever and drug-induced hemolytic anemias. Another of Zinkham's research pursuits was the question of why single enzymes existed in multiple molecular forms. This work led to the discovery of a sperm-specific enzyme, LDH-X, the genetic locus of which is activated only in the sperm of the male at the time of puberty.
In 1970, Zinkham received the first Alexander J. Schaffer Award for Excellence in Clinical Teaching in Pediatrics. He received the award again in 1984. He was also honored with the Professor's Award for Excellence in Teaching in 1985. Zinkham has produced more than eighty scientific papers and contributed major chapters to a dozen medical textbooks.
"*" indicates required fields