Hugh Hampton Young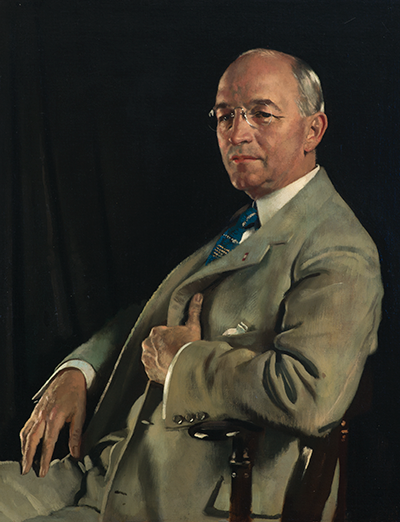 Make a Request
Hugh Hampton Young
1870-1945
Young, the founding director of the Brady Urological Institute at Johns Hopkins, was born in San Antonio. He received his A.B. and M.A. in 1893 and his M.D. in 1894, all from the University of Virginia. Young came to Baltimore in 1895 to undertake postgraduate work at the Johns Hopkins University School of Medicine.
In 1897, Young became head of genitourinary surgery at Johns Hopkins at the age of 27. During his tenure, Young oversaw the development of the Brady Urological Institute and served as its founding director from 1915 until his retirement in 1942. Among his most important accomplishments at Johns Hopkins are the development of the radical perineal prostatectomy as a treatment for prostate cancer and his establishment of the Brady residency program.
Young also invented numerous operating instruments such as the Young punch, an instrument used to excise the prostate gland; and the 'boomerang needle,' a type of surgical needle used for deep incisions. He also devised several surgical procedures for treating genitourinary diseases.
During World War I, Young served with the American Expeditionary Forces as director of the division of urology. In 1917 he was commissioned as a major and in 1918 was promoted to colonel. Responsible for the venereal health of American soldiers in France, he vigorously fought prostitution near American bases with the full cooperation of General Pershing.
Young authored several books, including Young's Practice of Urology and A Surgeon's Autobiography. He also established the Journal of Urology, and served as its editor until his death.
He had a personal interest in the burgeoning field of aviation and chaired a committee for planning what is now Thurgood Marshall Baltimore-Washington International Airport. Young was also active in community affairs and politics.
Additional Portrait(s) of Hugh Hampton Young
"*" indicates required fields