Alan Churchill Woods, Sr.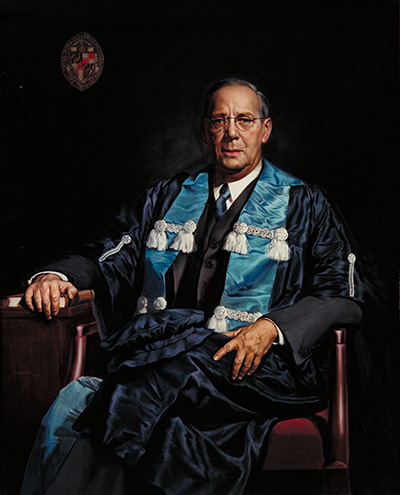 Make a Request
Alan Churchill Woods Sr.
1889-1963
rn
Woods, a director of the Wilmer Eye Institute at Johns Hopkins, was born in Baltimore. He earned his bachelor's and medical degrees from The Johns Hopkins University in 1910 and 1914, respectively. Woods served as an intern at Peter Bent Brigham Hospital in Boston in 1915 and for the following two years was a research fellow and assistant in ophthalmology at the University of Pennsylvania.
In 1916, Woods was a medical officer in a U.S. Army punitive expedition to Mexico. Shortly after he returned from Mexico, the United States entered the First World War. In 1917, Woods joined the Army and spent the next two years in France, leaving with the rank of major in 1919.
Following the war, he joined the faculty of the Johns Hopkins University School of Medicine. In 1934, Woods succeeded William Holland Wilmer as director of the Wilmer Eye Institute; in 1937, he was named ophthalmologist-in-chief of The Johns Hopkins Hospital.
Woods served as president of the American Academy of Ophthalmology and Otolaryngology in 1948 and was a member of the advisory committee for the National Association for the Prevention of Blindness. He also served as president of the Johns Hopkins Medical Society and was vice president of the American Ophthalmological Society. In 1948, he received the Ophthalmological Research Medal of the American Medical Association and in 1950, he was the first American to be made an honorary fellow of the Royal College of Surgeons in Edinburgh. He also received the Howe Medal of the American Ophthalmological Society in 1953.
He retired from teaching in 1955 but continued research and clinical work at Wilmer. In 1958, Woods was awarded with the Jules Gonin Medal, the highest honor in the field of ophthalmology, by the International Council of Ophthalmology. The Alan C. Woods Research wing, part of the Wilmer Eye Institute, opened in 1964.
Additional Portrait(s) of Alan Churchill Woods Sr.
"*" indicates required fields