James Donald Woodruff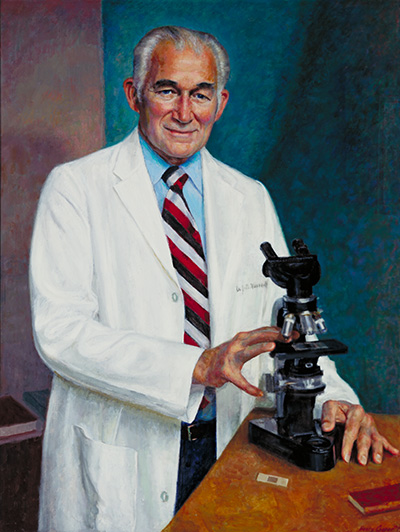 Make a Request
James Donald Woodruff
1912-1996
Woodruff, a professor of gynecology and gynecologic pathology at Johns Hopkins, was born in Baltimore. He attended Dickinson College, where he earned a B.S. in 1933. He then returned to Baltimore to study medicine at the Johns Hopkins University School of Medicine, earning his M.D. in 1937. Following graduation, he completed both an internship and residency at The Johns Hopkins Hospital. From 1942 to 1944, he served as chief of urology in the United States Army's 56th General Hospital, the first general hospital in Normandy after the invasion of the Allied forces.
In 1945, Woodruff returned to Johns Hopkins as an instructor in gynecology and obstetrics. In 1946 and 1947, he pursued surgical pathology studies at Bon Secours and St. Agnes hospitals and from 1952 to 1956 was head of gynecology at Maryland General Hospital. He also was chief of gynecology at the Women's Hospital of Maryland, which later became part of Greater Baltimore Medical Center. In 1961, he was named associate professor of pathology at Johns Hopkins and was promoted to professor of gynecology and obstetrics in 1968. From 1975 until his retirement in 1989, Woodruff served as the TeLinde Professor of Gynecologic Pathology.
Woodruff's primary area of interest was the origin of ovarian cancer. In 1955, he published the first of many papers on Paget's disease on the vulva. He published over 280 articles and numerous books including his Atlas of Gynecologic Pathology and Novak's Gynecologic and Obstetric Pathology.
Among his many honors, Woodruff received honorary professorships from the University of Tucuman in Argentina, the University of Münster in Germany, and the University of Stellenbosch in Cape Town, South Africa. In 1977, he served as president of the American College of Obstetricians and Gynecologists and the Johns Hopkins Medical and Surgical Association. In 1985, he was presented with the Distinguished Service Award of the American College of Obstetricians and Gynecologists.
The department of gynecology and obstetrics at Johns Hopkins dedicated the Woodruff Lecture Hall in his honor. In 1993, the J. Donald Woodruff Chair was established by his colleagues, friends, and former patients.
"*" indicates required fields