William Holland Wilmer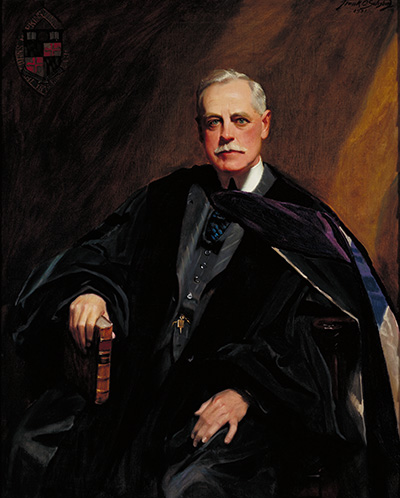 Make a Request
William Holland Wilmer
1863-1936
Wilmer, founding director of the Wilmer Eye Institute at Johns Hopkins, was born in Powhatan County, Virginia. He earned his M.D. from the University of Virginia in 1885. Wilmer furthered his studies at the New York Polyclinic Hospital and several European hospitals before returning to New York to intern at Mount Sinai Hospital.
In 1889, Wilmer moved to Washington, D.C., where he established a private ophthalmology practice. He was also appointed to the faculty of Georgetown University and was one of the founding surgeons of the Episcopal Eye, Ear and Throat Hospital.
Wilmer joined the Medical Reserve Corps of the Army in 1911 and during World War I developed the first eye standards for aviators. He was awarded the Distinguished Service Medal in 1919 and the French Legion of Honor in 1924 for his contributions to aviation and medical research.
In 1924, William Welch recruited Wilmer to organize the department of ophthalmology at the Johns Hopkins University School of Medicine. With the formal establishment of the Wilmer Ophthalmological Institute in 1925, Wilmer became professor of ophthalmology and ophthalmologist-in-chief of The Johns Hopkins Hospital.
By his retirement in 1934, Wilmer had achieved a global reputation for the Wilmer Institute and for his personal contributions to the study and treatment of ocular tuberculosis, glaucoma, and the relationship between eyes and systemic disease.
Wilmer was one of the founders of the American College of Surgeons and a member of the American Medical Association. He also was a member of the American Ophthalmological Society and served as its president in 1923.
"*" indicates required fields