Lawson Wilkins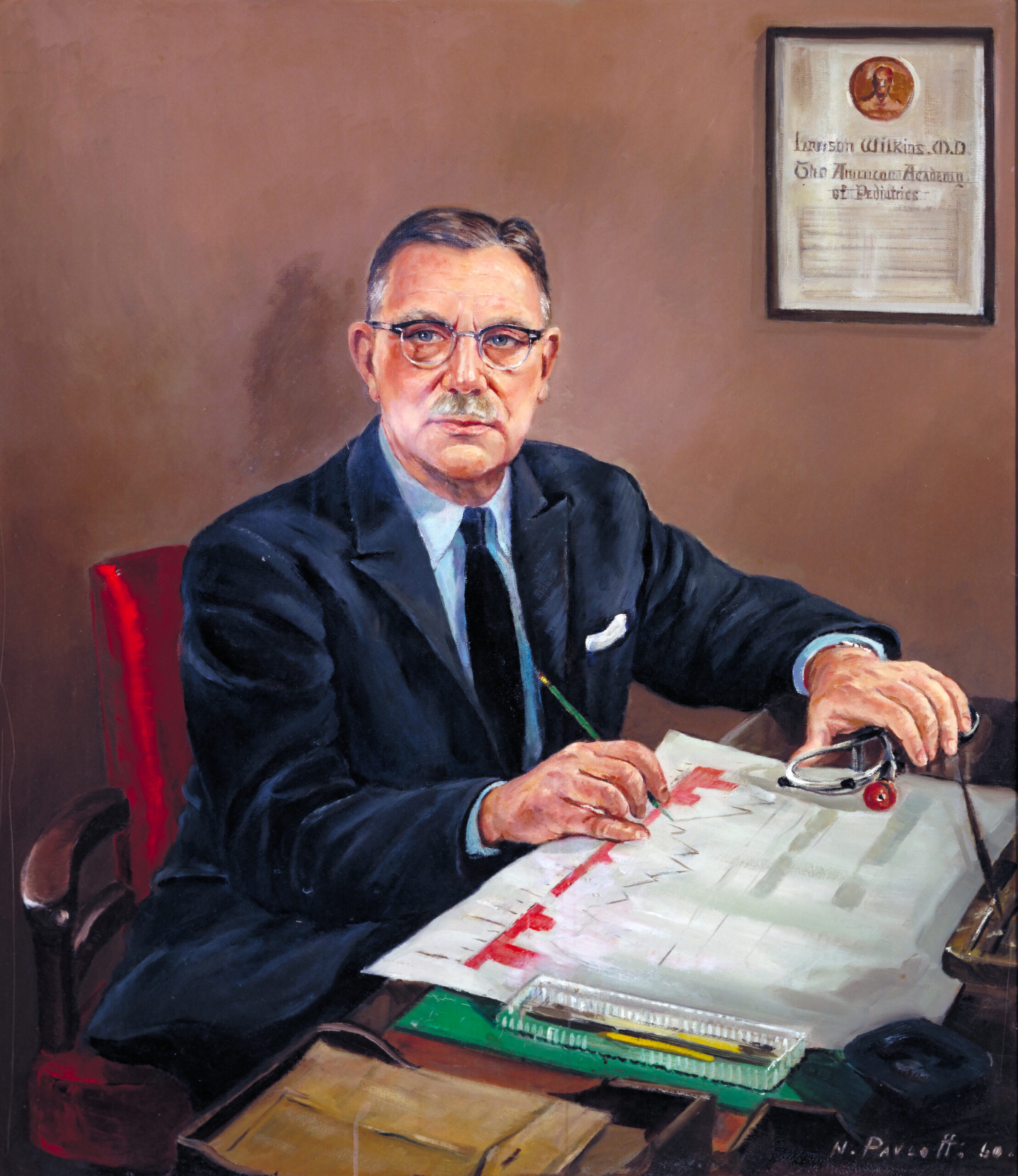 Make a Request
Lawson Wilkins
1894-1963
rn
Wilkins, founder of the world's first pediatric endocrinology clinic based at Johns Hopkins, was born in Baltimore. He graduated from The Johns Hopkins University in 1914 and earned his M.D. from the Johns Hopkins University School of Medicine in 1918.
After serving with the American Expeditionary Forces in France during World War I, Wilkins held a residency in medicine for one year at New Haven Hospital. The following year, he returned to Johns Hopkins as a house officer in pediatrics, where he helped organize the first special clinic for congenital syphilis.
Wilkins established a private practice in pediatrics in 1921. In 1935, he was appointed associate in pediatrics at the Johns Hopkins University School of Medicine and director of the Harriet Lane Clinic, the outpatient pediatric clinic at Johns Hopkins, which he headed until 1960. In 1946, he discontinued his private practice to devote more of his time to research and teaching pediatric endocrinology. Wilkins rose through the academic ranks, and was appointed professor in 1957.
Wilkins was a pioneer in the field of pediatric endocrinology. He founded the world's first pediatric endocrine clinic at the Harriet Lane Home in 1935. In 1950, his successful treatment of adrenogenital syndrome with small doses of cortisone brought him widespread recognition. He also made contributions relating to the application of new methods for the study of hormones in the diagnosis of many other endocrine disorders, cholesterol metabolism in hypothyroidism, the protein-anabolic and growth-promoting effects of androgens, and the differential diagnosis between adrenal tumor and hyperplasia.
Among Wilkins' major clinical contributions was his study of osseous and mental development in congenital hypothyroidism and dwarfism. His studies were based on meticulous investigations of his patients.
In 1953, Wilkins received the Borden Award from the American Academy of Pediatrics for his outstanding contributions to pediatric research and advancement of pediatrics. In 1955, the American Academy of Arts and Sciences awarded Wilkins the Francis Amory Prize for his basic studies in the fundamental knowledge of growth and development of secondary sex characteristics in children and for his successful use of adrenal cortical hormone treatment. He also received the Howland Award of the American Pediatric Association for his outstanding contributions to pediatric research and education.
"*" indicates required fields