Myron Weisfeldt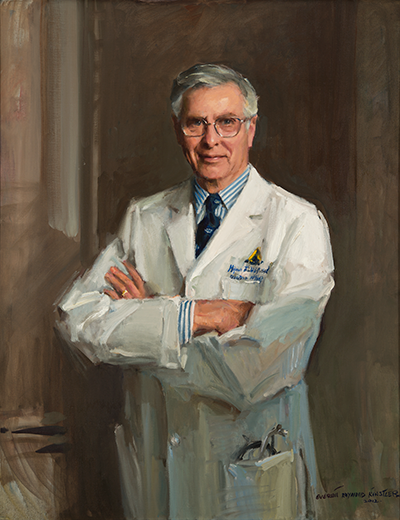 Make a Request
Myron Weisfeldt
1940-
Weisfeldt, a director of cardiology and the department of medicine at Johns Hopkins, was born in Milwaukee. He received his bachelor's degree from The Johns Hopkins University in 1962 and his medical degree from the Johns Hopkins University School of Medicine in 1965. After completing an internship and residency at Columbia-Presbyterian Medical Center in 1967, Weisfeldt worked as a clinical associate for the National Institute of Health's Gerontology Research Center. From 1969 to 1972, he served as senior assistant resident in medicine and then as clinical and research fellow in cardiology at Massachusetts General Hospital.
In 1972, Weisfeldt joined the Johns Hopkins faculty as an assistant professor of medicine and director of the Peter Belfer Laboratory for Myocardial Research. He became director of the division of cardiology in 1975, director of the Ischemic Heart Disease Specialized Center in 1977, professor of medicine in 1978, and the Robert L. Levy Professor of Cardiology in 1979.
In 1991, Weisfeldt moved to Columbia University's College of Physicians and Surgeons, where he served as the Samuel Bard Professor of Medicine and chair of the department of medicine. He also directed medical services for the Columbia-Presbyterian Medical Center. Under his leadership, the department's research funding doubled and there was a thirty percent increase in clinical activity. In 2001, he returned to Johns Hopkins to become William Osler Professor and director of the department of medicine, a post he held until retiring in 2014.
Weisfeldt has been on several advisory committees for the NIH, including chair of the National Heart, Lung, and Blood Institute's Cardiology Advisory Board and a member of the Board of Scientific Counselors of the National Institute on Aging. In 2003, he was appointed by the National Heart, Lung, and Blood Institute to be the study chair for the Resuscitation Outcomes Consortium, a large-scale ongoing clinical trials network to conduct randomized definitive trials of devices, drugs, and other therapies for out-of-hospital cardiac arrest and severe traumatic injury.
Weisfeldt's research has focused on heart function, particularly with aging and heart attacks. He is best known for his work in cardiopulmonary resuscitation and his advocacy of public access to defibrillators. His many contributions to the field of cardiology include his work on the first use of an implantable defibrillator and the initial studies of clot-busting drugs in the treatment of heart attack. For these achievements, he was awarded the American Heart Association's Award of Merit in 1989 and its Gold Heart Award in 1996. He served as the association's president from 1989 to 1990.
In 2008, Weisfeldt received the Diversity Award from the Association of Professors of Medicine in recognition of his work in improving diversity within the department of medicine. His program to increase diversity among residents, fellows, and faculty resulted in a near-tripling of minority residents and fellows and a near doubling of minority assistant professors of medicine.
"*" indicates required fields