Clemens Frederic von Pirquet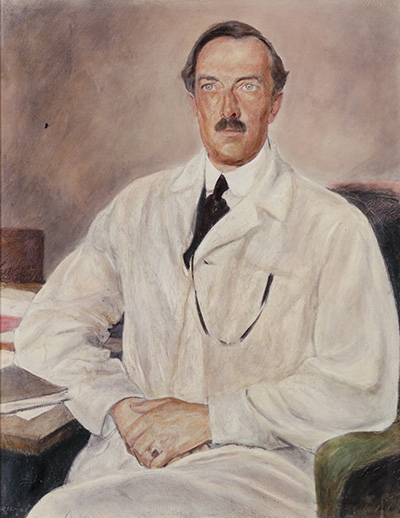 Make a Request
Clemens Frederic von Pirquet
1874-1929
Von Pirquet, an allergist and pediatrician who was instrumental in the planning of The Johns Hopkins Hospital's Harriet Lane Home for Invalid Children, was born outside Vienna in Hirschstetten, Austria. He studied theology at the University of Innsbrück and philosophy at the University of Löwen. In 1895, he began his medical studies at the University of Vienna and earned his M.D. from the University of Graz in 1900. After completing a year of postgraduate study in pediatrics at the University of Berlin, von Pirquet was appointed to the position of assistant in the pediatric clinic of Professor Theodor Escherich at the University of Vienna.
Von Pirquet, along with Bela Schick, investigated serum disease, which is seen in some diphtheria patients after treatment with antitoxic serum. This field of research was extended by von Pirquet's studies of re-inoculation against smallpox. The results of his research contributed to the understanding of infection and immunity, particularly the phenomenon of acquired hypersensitivity. Von Pirquet used the term allergy for this hypersensitivity. The Mantoux test for tuberculosis, which was introduced by Charles Mantoux in 1907, was based on Von Pirquet's and Robert Koch's theoretical studies.
Von Pirquet arrived in Baltimore in 1909, having been recruited by Johns Hopkins, and became deeply involved in the plans for the Harriet Lane Home, which was to become the hospital's first dedicated pediatric clinical facility. He remained only a year before taking a leave of absence to accept the position of professor of pediatrics at the University of Breslau, Prussia. He left Johns Hopkins before the Harriet Lane Home was completed and never returned.
Von Pirquet's life ended tragically in 1929, when he committed suicide together with his wife.
"*" indicates required fields