Thomas Bourne Turner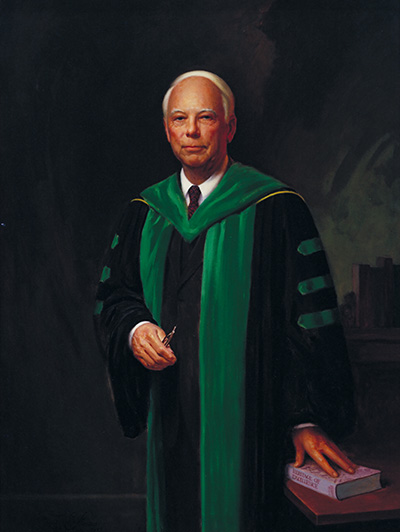 Make a Request
Thomas Bourne Turner
1902-2002
Turner, an infectious diseases expert and dean of the Johns Hopkins University School of Medicine, was born in Prince Frederick, Maryland. He earned a B.S. from St. John's College in Annapolis in 1921 and an M.D. from the University of Maryland School of Medicine in 1925. He came to Johns Hopkins in 1927 as a Jacques Loeb fellow and later joined the faculty of the School of Medicine.
In 1932, Turner left Johns Hopkins to join the Rockefeller Foundation's international health division. He returned to Johns Hopkins in 1936, and in 1939 was named professor and chairman of the department of bacteriology in the School of Hygiene and Public Health.
During World War II, Turner briefly left his professorship to lead the Army's syphilis eradication program. Toward the end of the war, he became alarmed by the high rates of venereal disease among American troops, particularly those who had been stationed in central Europe. Hoping to curb the spread of the disease, he urged the Army to undertake a large-scale advertising campaign encouraging people to reduce their risk of infection but had to fight widespread opposition from those who believed his programs encouraged sexual promiscuity.
Turner became dean of the School of Medicine in 1957 and held the office until 1968. During his tenure, the school doubled its size, added new departments, increased enrollment, and received a record amount of federal government grants and contracts.
After leaving the dean's office, Turner was named the first archivist of the Johns Hopkins Medical Institutions. While serving as archivist, he implemented a full-scale archival program and wrote a history of the medical institutions, A Heritage of Excellence. In 1982, he stepped down as archivist to head the newly-formed Alcoholic Beverage Medical Research Foundation based at Johns Hopkins.
Among his many honors and appointments, he was president of the Association of American Medical Colleges; vice chairman of the National Foundation's Committee on Virus Research and Epidemiology; vice president of the American Social Health Association, which gave him its William Freeman Snow Award; consultant to the surgeon general of the U.S. Army; chairman of the Microbiology Study Section and member of the First Council on Health Research Facilities of the National Institutes of Health; and a member of the Advisory Committee on Medical Research of the World Health Organization.
Sound recording: Thomas B. Turner / interviewed by James Lewis. 1975.
"*" indicates required fields