Caroline Bedell Thomas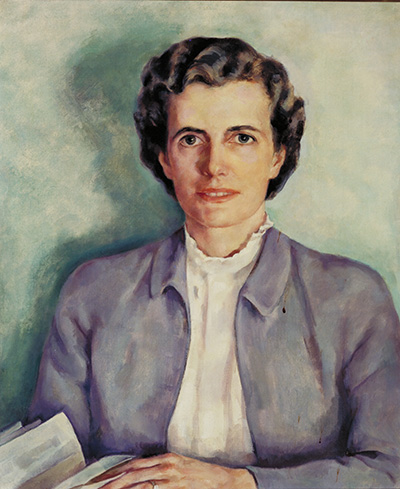 Make a Request
Caroline Bedell Thomas
1904-1997
Thomas, who launched the Johns Hopkins Precursors Study to track risk factors for hypertension and heart disease, was born in Ithaca, New York. She received her B.A. from Smith College in 1925, then did graduate work in general physiology and genetics at The Johns Hopkins University under Herbert S. Jennings in the department of biology. Eventually, she entered the Johns Hopkins University School of Medicine, receiving her M.D. in 1930.
Thomas conducted research in electrocardiography at the School of Medicine while completing her residency at The Johns Hopkins Hospital from 1931 until 1933. She left Johns Hopkins to pursue a National Research Council fellowship in medicine and a fellowship in neuropathology at Harvard University.
Thomas returned to Johns Hopkins in 1934 as a fellow in physiology, and in 1935 joined the faculty of the School of Medicine. She was appointed associate professor in 1952 and professor in 1970, retiring from the faculty in 1985.
Thomas held a variety of staff appointments at The Johns Hopkins Hospital and also held a joint faculty appointment at the Johns Hopkins University School of Hygiene and Public Health. In 1946, she began a long-term study called The Precursors of Essential Hypertension and Coronary Artery Disease, now known as the Johns Hopkins Precursors Study, to assess health and risk factors for hypertension and heart disease. The study looked at the health of Johns Hopkins medical students from the classes of 1948 through 1964, following 1,337 students over 30 years. Its goal was to determine whether physical, psychological, and other profiles from their student days could predict diseases in later life. Although she started her research with the intent of finding the early indicators of cardiovascular disease, the results were useful in many other ways.
Her research showed that students who developed coronary artery disease also had high cholesterol. The heart patients were generally those who, as students, had reported more nervousness and depression in the face of tension, more fatigue on awakening, and lower academic standing. Meanwhile, in cancer investigations, those who developed malignancies had, as students, been generally lower in depression, anxiety, and anger than those with the other disorders. Thomas published several books from this study, showing the influence of personality and daily habits as factors in the prediction of heart disease, suicide, cancer, and longevity.
Before this work, Thomas had pioneered research in the prevention and treatment of rheumatic fever. She was the first physician to prove that drugs could prevent rheumatic fever in susceptible children. Her work in this area was recognized in 1957 with the James D. Bruce Memorial Award of the American College of Physicians. In 1958, she received the Elizabeth Blackwell citation from the New York Infirmary, and in 1985 was awarded the Distinguished Service Award by the Johns Hopkins University School of Medicine.
Sound recording: Caroline Bedell Thomas / interviewed by Michael Weiss and Richard Wexler. 1975.
"*" indicates required fields