William Sydney Thayer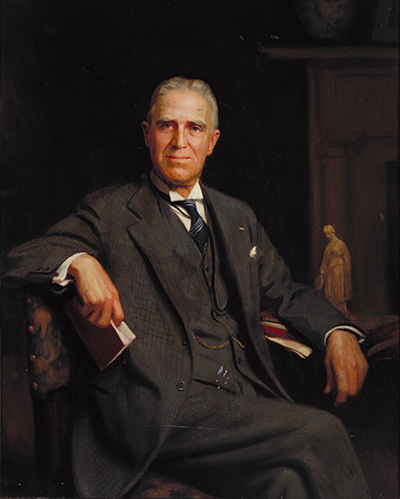 Make a Request
William Sydney Thayer
1864-1932
Thayer, a director of the department of medicine at Johns Hopkins and a chief medical consultant in World War I, was born in Milton, Massachusetts. He received his B.A. in 1885 and his M.D. in 1889, both from Harvard University. After an internship at Massachusetts General Hospital, he came to The Johns Hopkins Hospital in 1890 as assistant resident physician under William Osler. The following year he was named resident physician, a position he held for seven years with intervals of study abroad.
Thayer joined the faculty of the Johns Hopkins University School of Medicine in 1896 as an associate professor of medicine and served as head of The Johns Hopkins Hospital medical clinic from 1898 until 1905, when he became professor of clinical medicine. In 1917, Thayer was offered the directorship of the department of medicine, but because of his responsibilities as chief medical consultant to the American Expeditionary Forces in France, his appointment was delayed until 1919.
During the war, Thayer served as chairman of the medical and scientific department for the American Red Cross Mission to Russia, with the rank of Major. Commissioned in June 1917, the group traveled to Russia via Canada and Japan, arriving in Vladivostok on July 26, and Petrograd on August 7. The goal of the medical department was to deliver medical and surgical supplies to the Russian Army and to coordinate relief efforts with the Russian Red Cross and the All Union of Zemstvos and Towns. Thayer was present in Moscow in early November when the Bolsheviks overthrew the Russian provisional government headed by Alexander Kerensky. Given the chaos of the Russian Revolution, the Red Cross Mission to Russia soon ended.
Thayer arrived back in the United States in January 1918. During his time in Russia, his wife Susan Chisolm Reed Thayer, an alumna of the Johns Hopkins Hospital School of Nursing, died in Baltimore. His military work earned him a Distinguished Service Medal and the rank of Officer in the Legion of Honour.
Upon his retirement in 1921, he was named professor emeritus. Thayer's research interests included a number of infectious and cardiovascular diseases, especially bacterial endocarditis. His academic contributions include organizing the first course in clinical microscopy for the medical school.
Additional Portrait(s) of William Sydney Thayer
"*" indicates required fields