Ernest Lyman Stebbins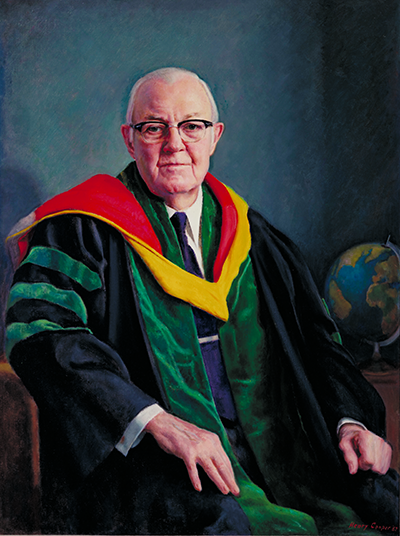 Make a Request
Ernest Lyman Stebbins
1901-1987
Stebbins, a dean of the Johns Hopkins University School of Hygiene and Public Health, was born in Oelwein, Iowa. He attended Drake University and Dartmouth College, receiving his B.S. from Dartmouth in 1925. He entered Dartmouth Medical College but transferred to Rush Medical College at the University of Chicago, where he received his M.D. in 1929. After serving as a hospital intern and resident surgeon in Chicago, Stebbins came to Baltimore and earned his M.P.H. from the Johns Hopkins University School of Hygiene and Public Health in 1932.
First appointed as an epidemiologist and health officer in Virginia and New York, he later worked as New York City health commissioner under Mayor Fiorello La Guardia from 1942 to 1946, where he proposed public health programs on such issues as birth control and sex education. He also was a professor of epidemiology at Columbia University and a visiting professor in public health at universities in Britain, the Philippines, and India.
In 1946, Stebbins joined the faculty of the Johns Hopkins University School of Hygiene and Public Health and served as director of the school from 1946 until 1958 and dean from 1958 to 1967. As dean, he developed programs in international health, population dynamics, public health administration, health care administration, and residencies in preventive medicine. He was named dean emeritus upon his retirement in 1967 and professor emeritus in 1972 but continued to contribute to the school until his death.
Stebbins testified before Congress to promote health aid in foreign policy, saying it "does more to win us friends in foreign countries than any of our other programs." As part of his commitment to international health, he helped re-establish a school of public health in the Philippines after World War II.
Stebbins also helped charter the World Health Organization and served as a consultant to the Agency for International Development, the U.S. Air Force, and the U.S. Public Health Service. He served on the national board of governors of the American Red Cross, was executive secretary of the world Federation of Public Health Associations, and was director of the American Cancer Society. He was a president of the American Public Health Association and the American Epidemiological Society.
Sound recording: Ernest Stebbins / interviewed by Michael Doukas and Kent Johnson. 1975.
"*" indicates required fields