Richard Norman Stauffer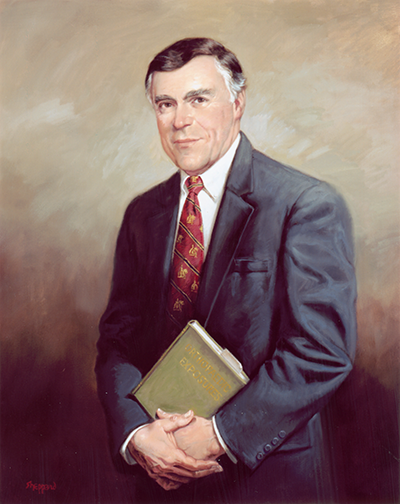 Make a Request
Richard Norman Stauffer
1938-1998
Stauffer, a director of orthopaedic surgery at Johns Hopkins, was born in Kearney, Nebraska. He received his bachelor's degree from Hastings College in Nebraska in 1959 and his medical degree from Northwestern University School of Medicine in Chicago in 1963. He completed his internship in surgery at Chicago Wesley Memorial Hospital and his residency in orthopaedic surgery at the Mayo Graduate School of Medicine. He served a stint in the U.S. Navy, from 1965 to 1967, in the middle of his residency.
In 1970, Stauffer joined the faculty of the University of Iowa, Iowa City, as an assistant professor of orthopaedic surgery. In 1972, he joined the Mayo Medical School and Clinic, where he spent 19 years, advancing from an instructor in orthopaedic surgery to a full professor.
In 1991, he moved to Johns Hopkins to become Robert A. Robinson Professor and Chairman of the Department of Orthopaedic Surgery and orthopaedic surgeon-in-chief at The Johns Hopkins Hospital. At Johns Hopkins, Stauffer served as chairman of the medical staff and as a trustee for The Johns Hopkins Hospital. He also served on many committees including the Executive Committee for Surgery and the Re-engineering Steering Committee, and was instrumental in working with his colleagues to reorganize the governance of the Clinical Practice Association of the School of Medicine.
Stauffer was considered an international authority for his research in the biomechanics of total joint replacements, joint motion and forces in walking, and the evaluation of patients with total joint replacements. His contributions in both clinical and research aspects of hip disease were recognized by his peers in the Hip Society, who gave him the John Charnley Award for outstanding research in hip disease in 1988.
He was on the board of directors of the American Academy of Orthopaedic Surgeons, chairing that group's Committee on Research from 1981 to 1987; president of the Orthopaedic Research Society; a member of the executive committee of the American Orthopaedic Association; and chair of a U.S. Food and Drug Administration advisory panel on medical devices. He also served on the editorial boards of Archives of Surgery and Journal of Arthroplasty and was editor-in-chief for Atlas of Orthopaedic Surgical Exposure and Advances in Operative Orthopaedics.
"*" indicates required fields