Edward Stephen Stafford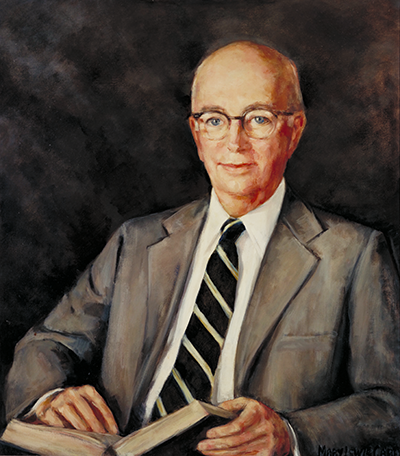 Make a Request
Edward Stephen Stafford
1906-1993
Stafford, a professor of surgery at Johns Hopkins, was born in Chicago. A Yale graduate of 1927 who studied English, history, and chemistry, Stafford chose The Johns Hopkins University for his medical studies. In his freshman year, he developed a three-dimensional model of hepatic circulation. Upon completion of his medical degree in 1931, Stafford served both an internship and residency at Johns Hopkins.
During Stafford's early years as a resident, he took on additional administrative duties and served as acting director of The Johns Hopkins Hospital on alternate evenings. He also spent two years as a resident in neurosurgery with Walter Dandy. He became the chief resident and in 1939 joined the full-time staff as associate surgeon in the hospital and an associate professor of surgery at the medical school. During this period, Stafford began his research on appendicitis and perfected techniques in the use of pedicle grafts of the small intestine for esophageal replacement. In 1942, with Johns Staige Davis he performed an early successful reconstruction of an extrathoracic esophagus.
During World War II, Stafford was assigned to the 18th General Hospital, a Johns Hopkins unit, and served in the South Pacific and India. He served with distinction, rising to the rank of lieutenant colonel, and was appointed chief of surgical service.
When Stafford returned to Johns Hopkins, he was actively involved in the surgical residency program and headed the outpatient and emergency departments. He published regularly and was promoted to full professor in 1967. Stafford also served on the Medical Board of The Johns Hopkins Hospital and was on the Advisory Board of the Johns Hopkins Hospital School of Nursing. He was assistant dean of the School of Medicine from 1967 to 1971 and associate dean from 1971 to 1974. Stafford also served as managing editor of the Johns Hopkins Medical Journal. In 1975, the Alumni Association of Johns Hopkins honored Stafford with the Heritage Award. He retired in 1977.
Stafford was a member of the American College of Surgeons, the Society of University Surgeons, the Southern Surgical Association and the Medical and Chirurgical Faculty of Maryland.
"*" indicates required fields