Gardner Watkins Smith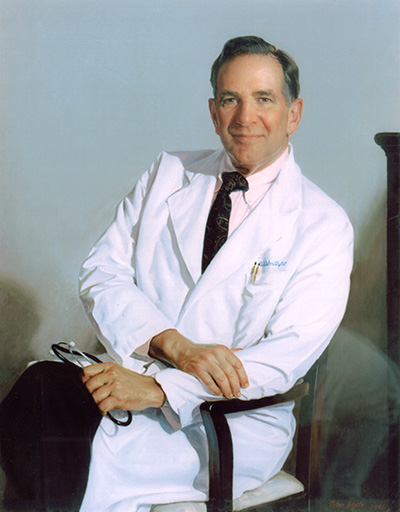 Make a Request
Gardner Watkins Smith
1931-2006
Smith, a chief surgeon for Baltimore City Hospitals (now Johns Hopkins Bayview Medical Center), was born in Boston. He received his bachelor's degree from Princeton University in 1953 and his M.D. from Harvard Medical School in 1956. He then completed a surgery internship at The Johns Hopkins Hospital and a residency in cardiovascular and thoracic surgery at the University of Virginia School of Medicine and Hospital, where he remained on the faculty until 1970.
Smith then returned to Baltimore as professor of surgery at both Johns Hopkins and the University of Maryland schools of medicine. He was surgeon-in-chief for Baltimore City Hospitals from 1970-1979, helping in the transition of the hospital from city to Johns Hopkins ownership. In the early 1970s, Smith participated in the Vietnam Medical School Project, traveling to Saigon to help train Vietnamese physicians. He was deputy director of surgery at The Johns Hopkins Hospital from 1979 to 1985, then moved back to Johns Hopkins Bayview Medical Center to head surgery there until 1984. He retired in 1996.
After moving to Deer Island, Maine, in 1998, Gardner served as board chairman and board member of the Blue Hill Memorial Hospital, and as a board member of the Island Medical Center. In 2000, Johns Hopkins Bayview Medical Center named an annual lectureship in Gardner's honor.
"*" indicates required fields