Henry Murray Seidel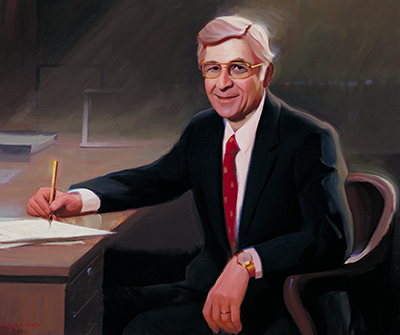 Make a Request
Henry Murray Seidel
1922-2010
Seidel, a professor of pediatrics and dean of students at the Johns Hopkins University School of Medicine, was born in Passaic, New Jersey. He received his B.A. in 1943 and his M.D. in 1946, both from The Johns Hopkins University. After serving in the U.S. Army, he returned to Johns Hopkins in 1950 to resume residency training and then join the faculty. He did postdoctoral pediatric training at the Harriet Lane Home for Invalid Children, precursor to the present-day Johns Hopkins Children's Center, and was one of the founding editors of the Harriet Lane Handbook, the pediatrician's reference book still in wide use today.
Seidel started his medical career as an attending pediatrician at The Johns Hopkins Hospital in 1953. In the nearly seven decades that he spent at Johns Hopkins, Seidel became an indispensable force in the institution, revered by fellow pediatricians and loved by students. Seidel was also an attending physician at Sinai Hospital of Baltimore between 1953 and 1968 and part-time instructor in pediatrics at the University of Maryland. He became a faculty member at the Johns Hopkins University School of Hygiene and Public Health in 1969 and served as dean of student affairs from 1977 until 1990. From 1970 until 1973, he held a post as director of clinical programs for the Johns Hopkins Medical Partnership in Columbia, Maryland; and from 1973 until 1977, Seidel was the associate dean of the short-lived School of Health Services. Seidel was a founder of the Howard County General Hospital and served on its board until his death.
In 1966, he did a tour of duty aboard the S.S. Hope when the famed hospital ship sailed on a teaching and treatment mission to Nicaragua. In 1971, he did a similar tour in Jamaica. Seidel also worked for the international humanitarian Project HOPE on a Navajo reservation in Arizona.
Seidel continued to see patients and teach students for nearly twenty years after he formally retired at the age of sixty-eight. He authored or co-authored more than seventy papers and numerous books and book chapters. He was the lead author of the acclaimed Mosby's Guide to Physical Examination for more than two decades. The seventh edition was published shortly before his death. He also was the recipient of the Outstanding Educator Award of the Maryland Association for Higher Education.
"*" indicates required fields