George Wesley Santos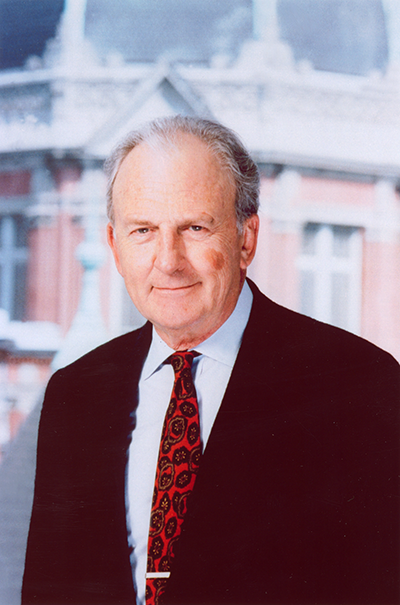 Make a Request
George Wesley Santos
1928-2001
Santos, the founder of Johns Hopkins Oncology Center's bone marrow transplantation program, was born in Oak Park, Illinois. He received a bachelor's degree in quantitative biology and a master's degree in physical biology from the Massachusetts Institute of Technology. In 1955, he received his medical degree from the Johns Hopkins University School of Medicine, and then served as intern for a year in the Osler Medical Service. Santos developed an interest in bone marrow transplantation while serving in the Naval Reserves at the U.S. Naval Radiologic Defense Laboratory in San Francisco from 1956 to 1958. He returned to Johns Hopkins in 1958 to conduct a residency at the hospital and a fellowship at the school of medicine.
In 1960, when he was a fellow at Hopkins, Santos conducted the institution's first marrow transplantation studies in animals. He performed his first human bone marrow transplant in 1968 in the Johns Hopkins oncology unit at the former Baltimore City Hospitals, now the Johns Hopkins Bayview Medical Center.
Throughout his long career at Johns Hopkins, he was instrumental in developing what is considered the standard of care in marrow transplantation. Santos founded the Oncology Center's bone marrow transplant program and served as its director from 1968 until his retirement in 1994. Among his extensive accomplishments was the development of a regimen to prepare patients for the procedure by using the anticancer drugs busulfan and cytoxan, which quickly became the worldwide standard. His animal studies in transplantation biology continue to serve as guides in the development of new therapeutic approaches.
Santos was among the first to test the drug cyclosporine for the treatment of life-threatening transplantation complication known as graft-versus-host disease. He also was known for work using the drug 4-HC to purge patients' diseased marrow of cancer cells, allowing them to self-donate; treatments to prevent and manage opportunistic infections in immunocompromised bone marrow transplant patients; and techniques in T-cell depletion that reduced complications and relapses.
He received several awards and honors for his contributions to medicine, including the Bristol Myers Squibb Award for Distinguished Achievement in Cancer Research and the American Society for Blood and Marrow Transplantation Lifetime Achievement Award. The Johns Hopkins Oncology Center's inpatient bone marrow transplantation unit was named in Santos' honor at the opening of its new clinical facilities in 2000.
"*" indicates required fields