Richard Starr Ross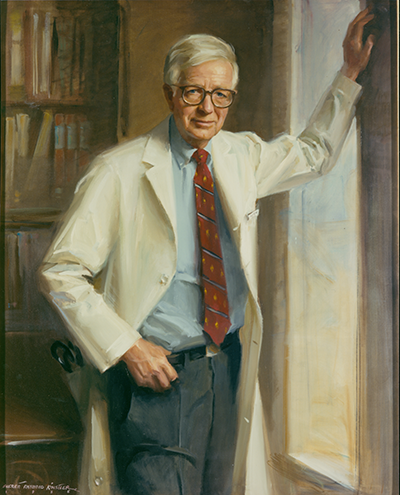 Make a Request
Richard Starr Ross
1924-2015
Ross, a dean of the Johns Hopkins University School of Medicine, was born in Richmond, Indiana. In 1942, he entered Harvard University and was admitted into Harvard Medical School's accelerated program in 1944. Ross earned his M.D. in 1947 and moved to Baltimore to begin his post graduate training as a Johns Hopkins Hospital intern on the Osler Medical Service.
Ross' medical residency was interrupted by his military service in the U.S. Army Medical Corps, where he was a captain in the 141st General Hospital, Far East Command, during the Korean War. He returned to The Johns Hopkins Hospital in 1951 to complete his medical residency. Ross spent the following year at Harvard Medical School as a research fellow in physiology and returned to The Johns Hopkins Hospital in 1953 to become chief resident on the Osler Medical Service.
Appointed an instructor in medicine in 1954, Ross rose through the academic ranks quickly. His clinical and research interests in congenital heart disease led to his appointment as the first director of Johns Hopkins' Wellcome Research Laboratory in 1960 and, a year later, as the director of the division of cardiology. Ross was promoted to professor of medicine in 1965 and named the Susan and William Clayton Professor of Cardiovascular Disease in 1969.
Along with radiology director Russell Morgan, Ross introduced coronary cineangiography, a method for taking the first motion pictures of the heart. Ross and fellow cardiologists Gottlieb Friesinger, J. Michael Criley, and O'Neal Humphries were also the first at Johns Hopkins to produce coronary arteriograms, a technique of measuring myocardial blood flow with dye injected selectively into the coronary arteries. Other areas of Ross' research included the relationship between coronary anatomy and prognosis in coronary artery disease, and the evaluation of surgical procedures for the treatment of coronary artery disease. He also was instrumental in organizing a multicenter, prospective, randomized trial to evaluate the use of coronary bypass surgery for emergency treatment of unstable angina pectoris.
In 1974, Ross was one of three physicians asked to examine former President Richard Nixon at his California home to determine if he was well enough to testify during the Watergate investigation. The doctors determined that Nixon was too ill for travel.
In 1975, he was appointed dean of the Johns Hopkins University School of Medicine and vice president of medicine, positions he held until 1990, when he was appointed dean emeritus. Some of the many accomplishments during his tenure as dean included increased federal biomedical research funding, development of a centralized clinical practice plan, increased endowment for young faculty, and the endowment of twenty-nine professorships. During his career he published over 140 articles, two books, and numerous book chapters. He served on many boards and professional societies, and served as president of the American Heart Association from 1973 to 1974.
Ross received the American Heart Association's Gold Heart Award in 1976 and its James B. Herrick Award for Outstanding Achievement in Clinical Cardiology in 1982. In 2005, he received Johns Hopkins University's President's Medal, an honor reserved for people of distinguished achievement.
"*" indicates required fields