David E. Rogers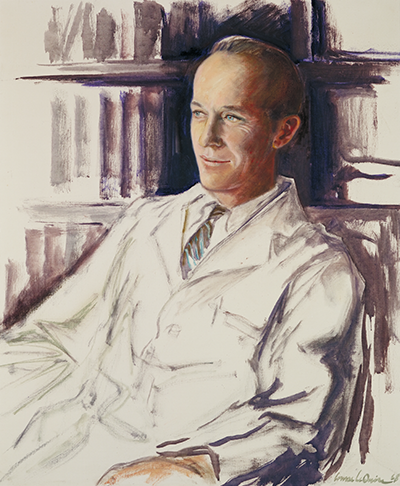 Make a Request
David E. Rogers
1926-1994
Rogers, dean of the Johns Hopkins University School of Medicine from 1968 to 1971, was born in New York City. Son of the eminent psychologist Carl Rogers, he spent part of his youth in Columbus, Ohio where his father taught at Ohio State University. Rogers enrolled at Ohio State University in 1942 and in 1944 graduated from Miami University of Ohio. He received his M.D. from Cornell Medical College in 1948 and served his internship and residency with the Osler Medical Service at Johns Hopkins. Returning to New York, Rogers served as chief resident in medicine at New York Hospital from 1950 to 1951 and completed a postdoctoral fellowship in medicine at New York Hospital from 1951 to 1952.
From 1952 to 1954 Rogers served in the U.S. Navy. After his discharge, he was appointed visiting investigator at the Rockefeller Institute for Medical Research from 1954 to 1955. He also joined the New York Hospital-Cornell Medical Center in 1954 and served as chief of infectious diseases for five years before departing for Vanderbilt University. In 1959, he was appointed chairman of the department of medicine at Vanderbilt University and physician-in-chief of Vanderbilt University Hospital.
In 1968, Rogers was recruited as dean of the Johns Hopkins University School of Medicine and appointed vice president of The Johns Hopkins University, and medical director of The Johns Hopkins Hospital. Assuming these positions of leadership during a turbulent period of race relations in Baltimore, he led efforts to extend increased health care services to the East Baltimore community surrounding Johns Hopkins. As dean, Rogers boosted enrollment of African American students at the school of medicine. An early proponent of health maintenance organizations, Rogers also played a major role in the development of the Columbia Medical Plan, a prepaid health plan in the newly established city of Columbia, Maryland.
From Johns Hopkins, Rogers went on to become the first president of the Robert Wood Johnson Foundation (RWJF). During his fifteen-year presidency, the foundation became the largest philanthropy to devote resources to problems in health care. He advocated for development of programs devoted to primary care for the poor and elderly, and greater inclusion of minorities in the health professions.
After his retirement from the RWJF in 1986, Rogers returned to Cornell University Medical College as the Walsh McDermott University Professor of Medicine. While at Cornell, he chaired the New York City Mayor's Task Force on AIDS and co-chaired the National Commission on AIDS.
"*" indicates required fields