Robert Alexander Robinson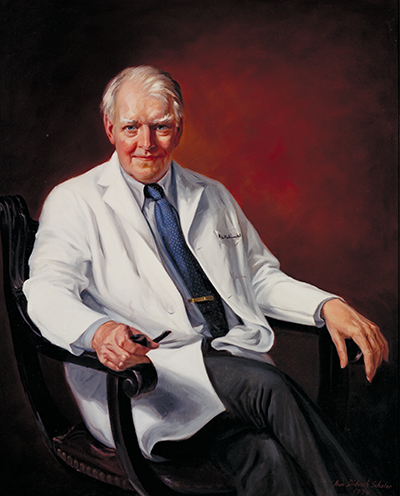 Make a Request
Robert Alexander Robinson
1914-1990
Robinson, a chief of orthopaedics at Johns Hopkins, was born in Rochester, New York. He received his A.B. from Harvard University in 1935 and his M.D. from Columbia University in 1939. He served as an intern and resident at Brooklyn Hospital, and as a resident in orthopaedics at Presbyterian Hospital in New York. Robinson then served in the U.S. Army for four years during World War II as ward orthopaedic surgeon and chief administrator at several base hospitals.
After completing his residency in orthopaedics, he joined the faculty of the University of Rochester School of Medicine in 1951. Two years later, he became chief of the division of orthopaedics at The Johns Hopkins Hospital and professor of orthopaedic surgery at the Johns Hopkins University School of Medicine.
Robinson was among the first to study bone structure using the electron microscope, and his description of a method for anterior removal of intervertebral discs from the neck opened new fields of research and improved treatment of disc disease. He also was one of the nation's leading authorities on total hip joint replacement.
In addition to his work at Johns Hopkins, Robinson held various positions at Children's Hospital, the National Institutes of Health, Sinai Hospital, and the Anne Arundel Medical Center. His scholarly works number over eighty scientific papers and he served as editor for several professional publications.
Robinson was a founder and president of the Orthopedic Research and Education Foundation, and a leader in numerous national and international orthopaedic societies. He retired from Johns Hopkins in 1979 but continued to see patients. At his retirement, an endowed chair was established in his honor. He had also been named an honorary associate at Guy's Hopsital in London and received the Kappa Delta Award of the American Academy of Orthopedic Surgeons.
Film clip: Robert A. Robinson, M.D. : a portrait / presented by his residents 1953-1975.
"*" indicates required fields