William Francis Rienhoff, Jr.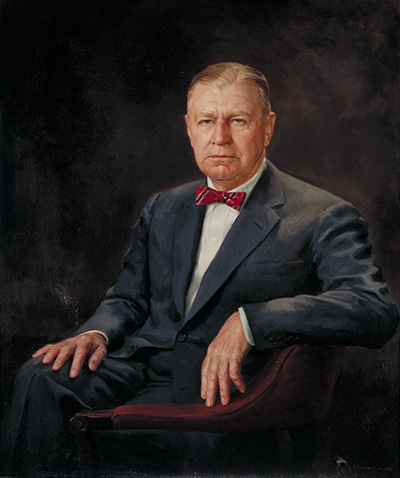 Make a Request
William Francis Rienhoff Jr.
1894-1981
Rienhoff, a professor of surgery at Johns Hopkins, was born in Springfield, Missouri. He received his A.B. from Cornell University in 1915 and his M.D. from the Johns Hopkins University School of Medicine in 1919. Rienhoff interned in both medicine and surgery at The Johns Hopkins Hospital under William S. Halsted and J.M.T. Finney. After completing his surgical training, he accepted joint appointments at The Johns Hopkins Hospital and the Johns Hopkins University School of Medicine.
During the 1920s and 1930s, Rienhoff focused his research on the study of the thyroid gland, using innovative techniques to gain a better understanding of its anatomy. He conducted clinical studies on the changes that resulted in the thyroid when iodine was administered. He received the first Gold Medal of the American Association for the Study of Goiter in 1930.
Later he concentrated on lung surgery, specializing in carcinoma of the lung. In 1933, Rienhoff perfomed the United States' first operation for total removal of a cancerous lung, going on to conduct more than 1,000 lung operations in the United States and abroad. Rienhoff was one of the first researchers to link environmental factors with lung cancer.
Rienhoff traveled extensively during his career. In 1949, he served as professor of surgery at Guy's Hospital, in London. Rienhoff went to Manila in 1952, and later performed surgeries in Paris, Rome, and Madrid.
Rienhoff is published in the Journal of the American Medical Association, Archives of Surgery, the Southern Medical Journal, and the Johns Hopkins Hospital Bulletin. He was a member of many professional organizations, including the American Medical Association, the American Surgical Association, the American College of Surgeons, and the Maryland Medical and Chirurgical Faculty.
Sound recording: William F. Rienhoff, Jr. / interviewed by E. Ray Knight and Marcus Contardo. 1975.
"*" indicates required fields