Mary Sanders Price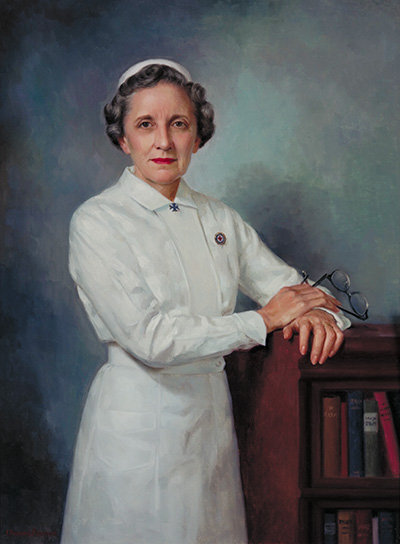 Make a Request
Mary Sanders Price
1905-1985
Price, a director of The Johns Hopkins Hospital's School of Nursing and Nursing Service, was born in Johnstown, Pennsylvania. She received her B.A. from Bucknell University in 1926. After teaching high school for five years, she attended the Johns Hopkins Hospital School of Nursing and graduated in 1934. She served in several nursing positions at The Johns Hopkins Hospital from 1934 until 1939, when she became the director of instruction at Rhode Island General Hospital.
Price returned to nursing at Johns Hopkins in 1941. She was appointed chief nurse in 1942 of the 118th General Hospital during World War II. She served in Australia, New Guinea, and the Philippines before being discharged in 1946 with the rank of lieutenant colonel. In 1947, she joined the faculty of the University of Pittsburgh School of Nursing and in 1948 received an M.A. from the Teachers' College at Columbia University.
Price returned to Johns Hopkins in 1952, serving as vacation relief for several summers on the Marburg nursing staff. In 1955, she became director of the School of Nursing and Nursing Service at The Johns Hopkins Hospital. Price held this post for fifteen years, during which time she cut the working hours of student nurses and helped establish a nursing museum and a nursing room in the library. She also developed in-service training programs, and during her administration the first male nursing students were admitted to the program.
Price retired from her position in 1970. In that same year, she was awarded the Distinguished Service award of the Johns Hopkins Hospital, given by the hospital's Board of Trustees.
"*" indicates required fields