Kenneth Pienta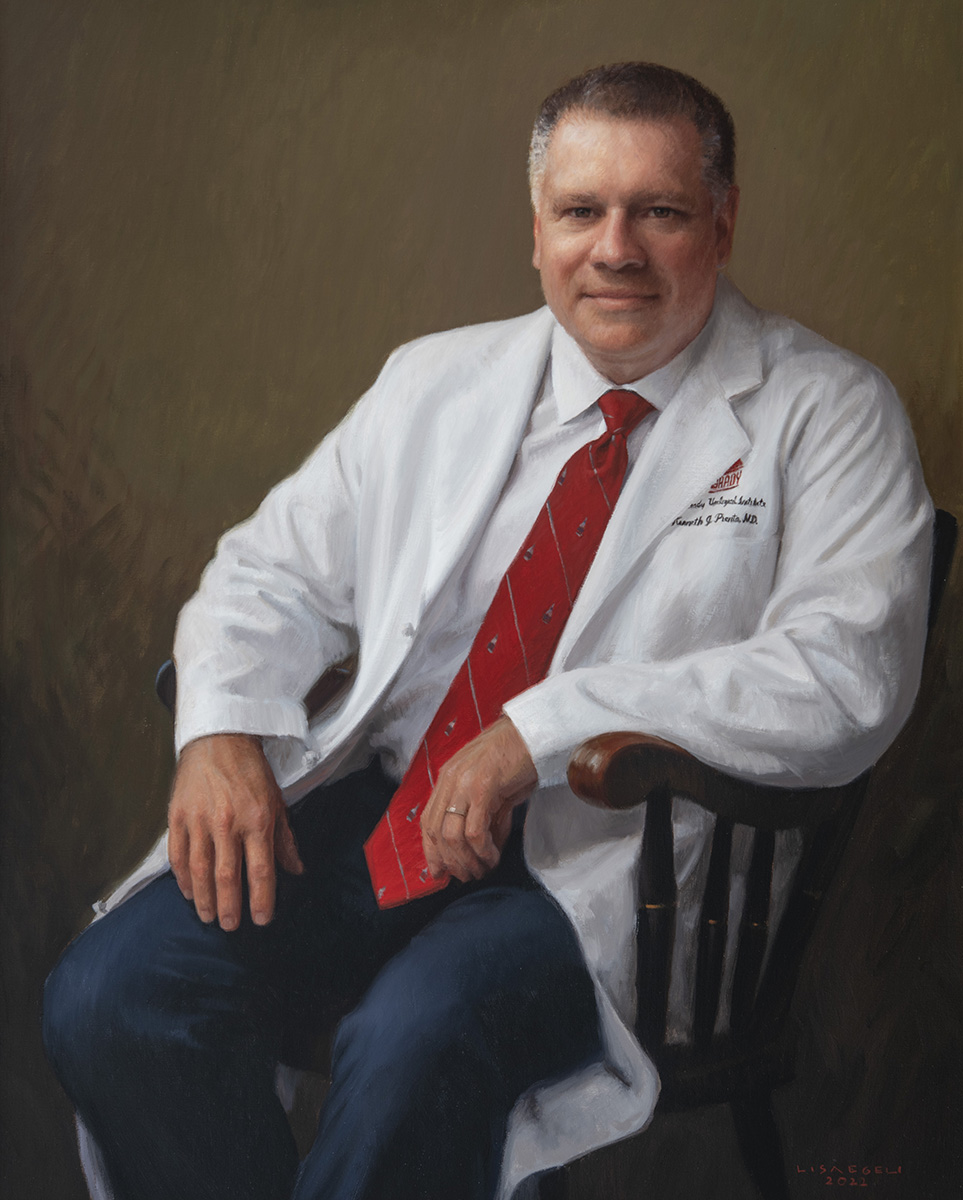 Make a Request
Kenneth Pienta
1960-
Pienta, the Donald S. Coffey Professor of Urology and director of research for the Brady Urological Institute, was born in Detroit. He entered the University of Michigan in 1978 before enrolling at the Johns Hopkins University School of Medicine in a joint B.A-M.D. program in 1981. Pienta completed his B.A. in human biology in 1983 and earned his M.D. from Johns Hopkins in 1986. He completed an internship and residency in internal medicine at the University of Chicago Medicine's Mitchell Hospital-Hyde Park in 1988 and a fellowship in oncology at the Johns Hopkins University School of Medicine in 1991.
In 1993, Pienta became an assistant professor of medicine in hematology and oncology at Wayne State University School of Medicine. He also served as an adjunct assistant member at The Michigan Cancer Foundation and as a staff physician at Harper Hospital in Detroit. In 1995, he was appointed Director of the Prostate Specialized Program of Research Excellence at the University of Michigan and in 2001 was made professor of surgery, internal medicine, and urology at the University of Michigan Medical School. In 2005, Pienta was appointed American Cancer Society Clinical Research Professor at the University of Michigan.
He continued to rise through the ranks at the University of Michigan, becoming director of the Precision Medicine Center for Translational Pathology, director of the Michigan Institute for Clinical and Health Research, and Associate Dean for Clinical and Translational Research in 2008. In 2012 he was made Associate Vice President for Research—Health Sciences.
Pienta came to Johns Hopkins in 2013 as a professor of urology, oncology, and pharmacology and molecular sciences and director of research at the Brady Urological Institute. He is also the co-director of the Prostate Cancer Research Program of the Sidney Kimmel Comprehensive Cancer Center. From 2014 to 2019, Pienta was co-director of Hopkins inHealth and from 2016 to 2019 he was the director of Precision Medicine Centers of Excellence Program.
Pienta's research interests are metastatic cancers and the ecology of metastasis, the tumor microenvironment, and developing new therapies for prostate cancer. His clinical focus is treating high-risk and metastatic prostate cancer and in personalized treatments for patients.
Pienta has authored more than 400 publications in academic journals and written educational books and book chapters. He has held many board memberships, including the Paget Foundation and Bone and Cancer Foundation. Pienta served as editor for several peer-review journals dedicated to oncology and has been Editor-in-Chief for Medical Oncology since 2015. He is a fellow of the American College of Physicians.
Among his many professional recognitions, Pienta has been awarded the American Cancer Society Clinical Research Professor Award twice, as well as being the 2018 recipient of the Richard D. Williams, MD Prostate Cancer Research Excellence Award given by the American Urological Association.
"*" indicates required fields