Walter Frederick Perkins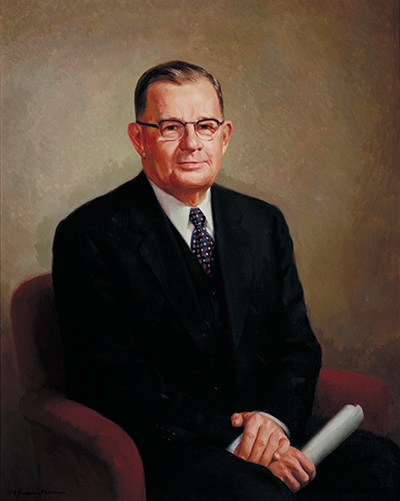 Make a Request
Walter Frederick Perkins
1891-1969
Perkins, a board chairman for The Johns Hopkins Hospital, was born in Baltimore. After attending the Baltimore Polytechnic Institute, he worked for a year as a rodman on the Baltimore and Ohio Railroad before enrolling at Lehigh University with advanced academic standing. He graduated in 1913, after only two and a half years.
Perkins began his long career at the Bartlett-Hayward Co. in 1915, quickly becoming a superintendent. He left from 1917 to 1922 to be a works manager for the Worthington Pump and Machinery Corp. in Harrison, New Jersey. Returning to Baltimore, Perkins became vice president and general manager of the Bartlett-Hayward Co. and in 1924 became its president. When the company merged with the Koppers Co. in 1936, Perkins assumed the role of vice president and general manager of its Baltimore metal products division. He retired from this position in 1956.
During his career, Perkins was the director of many companies, among them the Mercantile-Safe Deposit and Trust Co., the Eutaw Savings Bank, and the Baltimore Gas and Electric Co. Perkins also held numerous municipal positions, the most significant being his long tenure as chairman of the airport board and head of the Department of Aviation. Chairing the airport board from 1948 until 1960, Perkins oversaw the site selection, construction and operation of the Friendship International Airport (now the Thurgood Marshall Baltimore-Washington International Airport), which opened in 1950. He joined the board of The Johns Hopkins Hospital in 1942, and succeeded W. Frank Roberts as president in 1955. During his tenure, the title of this position was changed to chairman.
Perkins was a passionate advocate for improved child health care and improved psychiatric practice. He was instrumental in raising money for the Children's Surgical and Medical Center, which was dedicated in 1964. In addition to his obtainment of local gifts, Mr. Perkins convinced President Kennedy to support the endeavor. The Kennedy Foundation pledged a $250,000 gift for the building of the center and $100,000 annually for the next ten years.
Upon his retirement in from the hospital board in 1964, Perkins was presented with the hospital's Distinguished Service Award. Due to his special interest in childcare, in 1972 The Johns Hopkins Hospital named its specialized day care center in his honor. The Walter F. Perkins Day Care Center served families in the surrounding neighborhood, and was funded by the Baltimore Department of Social Services.
"*" indicates required fields