William Osler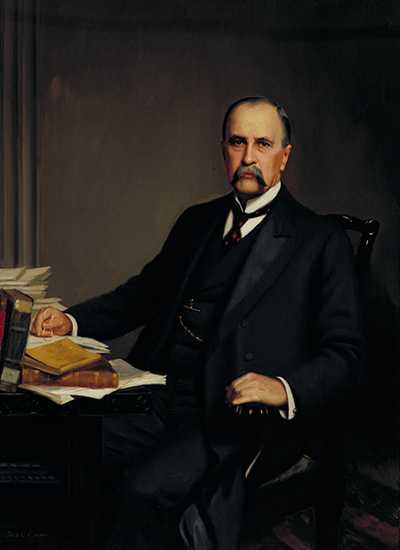 Make a Request
William Osler
1849-1919
Osler, founding physician-in-chief at Johns Hopkins, was born in a remote part of Ontario known as Bond Head. He spent a year at Trinity College in Ontario before deciding on a career in medicine. Osler attended the Toronto Medical College for two years, and in 1872 received his M.D. degree from McGill University in Montreal. Like many of his fellow physicians trained in Canada, Osler went abroad for postgraduate study. He studied in London, Berlin, and Vienna before returning to Canada in 1874 and joining the medical faculty at McGill. A year later he was promoted to professor. Osler was elected a fellow of the British Royal College of Physicians in 1883, one of only two Canadian fellows at that time. In 1884, he left Montreal for Philadelphia to become professor of clinical medicine at the University of Pennsylvania.
John S. Billings recruited William Osler in 1888 to be physician-in-chief of the soon-to-open Johns Hopkins Hospital and professor of medicine at the planned school of medicine. He revolutionized the medical curriculum of the United States and Canada, synthesizing the best of the English and German systems. Osler adapted the English system of medical education to egalitarian American principles by teaching students at the bedside. He believed that students learned best by doing and clinical instruction should therefore begin and end with the patient. Osler stressed that books and lectures were supportive tools to this end. The same principles applied to the laboratory, and all students were expected to do some work in the bacteriology laboratory. Osler introduced the German postgraduate training system, instituting one year of general internship followed by several years of residency with increasing clinical responsibilities.
Osler's book, The Principles and Practice of Medicine, first published in 1892, supported his imaginative new curriculum. It was based upon the advances in medical science of the previous fifty years and remained the standard text on clinical medicine for the next forty years.
Osler, a superb diagnostician and clinician, was greatly esteemed by his peers in this country and abroad. In 1905, he accepted the Regius Professorship of Medicine at Oxford University, at the time the most prestigious medical appointment in the English-speaking world. In 1911, Osler was created a baronet by King George V for his many contributions to medicine.
Additional Portrait(s) of William Osler
"*" indicates required fields