Vernon Benjamin Mountcastle, Jr.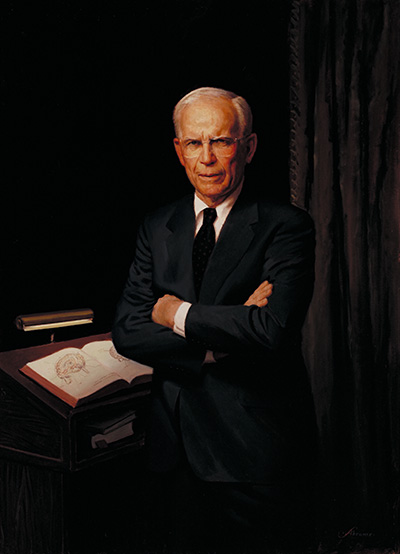 Make a Request
Vernon Benjamin Mountcastle Jr.
1918-2015
Mountcastle, a pioneer in the field of neuroscience, was born in Shelbyville, Kentucky. He graduated from Roanoke College in 1938 with a B.S. in chemistry, and received his M.D. from the Johns Hopkins University School of Medicine in 1942.
After an internship in surgery at The Johns Hopkins Hospital and three years in the U.S. Navy during World War II, he joined the department of physiology at the Johns Hopkins University School of Medicine as a postdoctoral fellow for one year of laboratory research with Philip Bard.
Mountcastle's work at Johns Hopkins focused on laboratory research in brain physiology. He joined the faculty of the School of Medicine in 1948, and achieved the rank of professor in 1959. He was appointed director of the department of physiology in 1964, a post he held for 17 years. In 1981, he was named University Professor of Neuroscience and director of the Philip Bard Laboratories of Neurophysiology. He retired from active laboratory work in 1992. He was one of the founding members of Zanvyl Krieger Mind/Brain Institute of The Johns Hopkins University.
In 1957, he made the breakthrough discovery that revolutionized the concept of how the brain is built. He found that the cells of the cerebral cortex are organized in vertical columns, extending from the surface of the brain down through six layers of the cortex, each column processing a specific kind of information.
Two decades later, Mountcastle launched what he considered even more important research on the parietal lobe of the cortex, the region involved in such higher functions as perceiving sensory information and physically reacting to it. In 1983, Mountcastle was awarded the Albert Lasker Basic Medical Research Award for his research in neuroscience.
In addition to the Lasker, Mountcastle received nearly every major scientific award, including the National Medal of Science and the National Academy of Sciences Award in Neurosciences. He was the first president of the Society for Neuroscience, editor of the Journal of Neurophysiology, and author of landmark textbooks.
"*" indicates required fields