Russell Hedley Morgan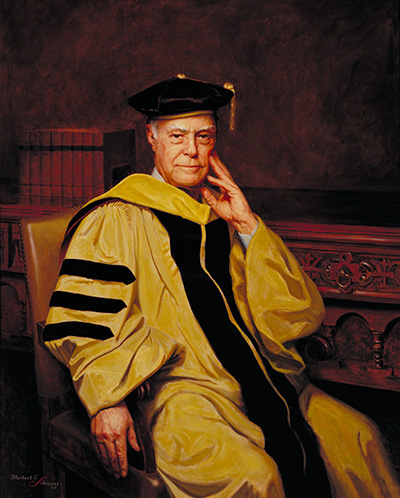 Make a Request
Russell Hedley Morgan
1911-1986
Morgan, a preeminent radiologist, was born in London, Ontario. He entered a seven-year medical program at the University of Western Ontario, receiving his B.A. in 1934 and his M.D. in 1937.
Morgan came to Johns Hopkins in 1946 as professor and chairman of the newly created Department of Radiology in the School of Medicine and the first radiologist-in-chief of the hospital. In 1960, he was also appointed professor of radiological science in the School of Hygiene and Public Health. He had developed an automatic X-ray timer while at the University of Chicago in the early 1940s, and with his colleagues at Johns Hopkins, perfected a method of screen intensification that reduced radiation exposure and improved fluoroscopic vision.
Morgan left his position of radiologist-in-chief in 1971 to become dean and vice president for health divisions of the Johns Hopkins University School of Medicine, a position he held until 1975. The radiology department was named for Morgan in 1978.
Morgan's many honors include the 1979 German Roentgen Medal, one of the highest honors in his field. He was the first president of the Association of University Radiologists, a consultant to the surgeon general, and chairman of the National Academy of Sciences Committee on Health Research Programs of the Department of Energy.
"*" indicates required fields