Fredrick John Montz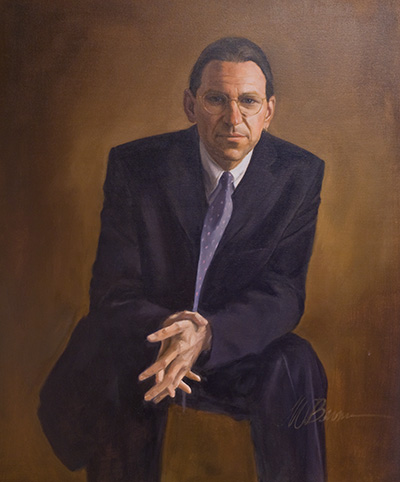 Make a Request
Fredrick John Montz
1955-2002
Montz, a director of gynecologic oncology at Johns Hopkins, was born in Marshfield, Wisconsin, and attended junior college in Bismarck, North Dakota. He received a bachelor of arts degree at Concordia College in Moorhead, Minnesota. He obtained his medical degree with high honors in 1980 from Baylor College of Medicine in Houston, graduating as a member of the honorary medical society, Alpha Omega Alpha.
While completing his residency in obstetrics and gynecology at the University of Southern California Medical Center in Los Angeles, Montz was awarded the Uwe Goebelsmann Award for outstanding research. He completed fellowships at St. George's Hospital, University of London School of Medicine, and the University of Southern California Norris Cancer Center. He joined the faculty of the University of California, Los Angeles School of Medicine in 1987, rising to the rank of associate professor in 1993. While there, he received the American Cancer Society Career Development Award.
Montz's research interests involved efforts to preserve fertility in women with precancerous and cancerous conditions of the reproductive tract; to develop better, earlier screening methods to prevent death and disability from cervical, ovarian and uterine cancers; and to develop and refine less radical surgeries for gynecologic cancers.
Recruited to Johns Hopkins in 1997, he was a nationally recognized authority on the use of minimally invasive techniques that preserve fertility in the treatment of gynecologic cancers. Montz was renowned at Johns Hopkins and nationwide for his extraordinary ability to communicate with and comfort his thousands of cancer patients.
He traveled frequently to lend his skills and compassion to victims of international disasters, earning recognition for this work as an elected member of the Knights of Malta, an international society formed to honor caregivers and protectors of the sick. Montz was an academic consultant for the National Cancer Institute for Liga Contra El Cancer San Pedro Sula Honduras in Central America and also for the U.S. Department of Health and Human Services, Public Health Service for the Aberdeen area Indian Health Service and the Alaska area native Health Service.
Montz died of a heart attack while jogging. At the time of his death, Montz was serving as president of the Maryland Obstetric and Gynecology Society and was a fellow of both the American College of Obstetrics and Gynecology and the American College of Surgeons.
"*" indicates required fields