Lloyd Brooks Minor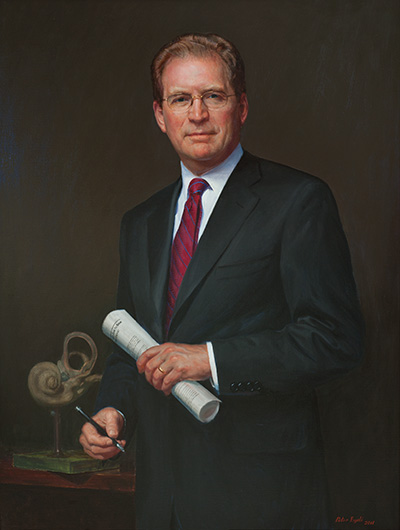 Make a Request
Lloyd Brooks Minor
1957-
Minor, a director of The Johns Hopkins Hospital's Department of Otolaryngology-Head and Neck Surgery and a provost and senior vice president at The Johns Hopkins University, was born in Little Rock, Arkansas. He received his bachelor's and medical degrees from Brown University in 1979 and 1982. Minor completed his surgical residency at Duke University, followed by a four-year postdoctoral research fellowship in vestibular physiology and then a residency in otolaryngology at the University of Chicago. He was then a clinical fellow at The Otology Group and the EAR Foundation in Nashville.
Minor was recruited to the Johns Hopkins University School of Medicine in 1993 as assistant professor of otolaryngology. He became associate professor in 1997 and professor in 2001 in the departments of otolaryngology–head and neck surgery, neuroscience, and biomedical engineering.
In 2003, he became director of Otolaryngology-Head and Neck Surgery. While in this post, Minor worked vigorously to recruit and retain faculty, expanded annual research funding by more than fifty percent, increased clinical activity by more than thirty percent, and strengthened teaching and student training. He also assumed other responsibilities in the School of Medicine, including chairing the Administrative Committee of the Medical Board and chairing the Practice Management Committee. He served as a member of the Standing Committee on Discipline; on the board of governors of the Clinical Practice Association; and on the Professorial Promotions Committee.
An expert in balance and inner-ear disorders, Minor has more than 140 published articles and chapters. Through investigations of eye movements and neuronal pathways, his work has identified adaptive mechanisms responsible for compensation to vestibular injury in a model system for studies of motor learning (the vestibulo-ocular reflex). His work has led to improved methods for the diagnosis and treatment of balance disorders. In recognition of his work refining a treatment for Ménière's disease, Minor received the Prosper Ménière Society's gold medal in 2010.
Minor also is known for his discovery of superior canal dehiscence syndrome, a disorder characterized by sound- or pressure-induced dizziness. In 1998, he and his colleagues published a description of the clinical manifestations of the syndrome and related its cause to an opening in the bone covering the superior canal. He developed a surgical procedure that corrects the problem and alleviates symptoms.
In 2009, Minor became The Johns Hopkins University's thirteenth provost. In that job, he launched a number of university-wide initiatives such as the Gateway Sciences Initiative to enhance educational innovation and the Doctor of Philosophy Board to promote excellence in doctoral education. He worked with others within the university and the health system to coordinate the Individualized Health Initiative, which aims to use genetic information to transform health care.
In 2012, Minor was named dean of the Stanford University School of Medicine. There he has led the development and implementation of an innovative model for cancer research and patient care delivery, and has launched an initiative in biomedical data science to create a learning health care system.
"*" indicates required fields