Edward Doring Miller, Jr.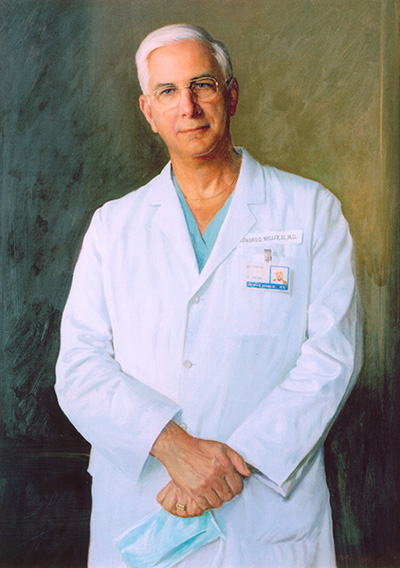 Make a Request
Edward Doring Miller Jr.
1943-
Miller, a dean of the Johns Hopkins University School of Medicine, and founding CEO of Johns Hopkins Medicine, was born in Rochester, New York. He received his bachelor's degree from Ohio Wesleyan University in 1964 and his M.D. from the University of Rochester School of Medicine and Dentistry in 1968. Miller then went to Boston for a surgical internship at University Hospital and a residency in anesthesiology at Peter Bent Brigham Hospital, as well as a research fellowship in physiology at Harvard Medical School. He spent a sabbatical year as a senior scientist in the department of pharmacology and physiology of Hôpital Necker in Paris.
From 1973 to 1975, Miller served as director of anesthesia research and later assistant chief of anesthesia and operative service at Brooke Army Medical Center in Fort Sam Houston, Texas. From there, he moved to the University of Virginia Medical Center, where he was an anesthesiologist and faculty member until 1986. He was then named the E.M. Papper Professor of Anesthesiology and chairman of the Department of Anesthesiology at Columbia University College of Physicians and Surgeons in New York and director of the anesthesiology service for Presbyterian Hospital.
In 1994, Miller joined Johns Hopkins as director of the Department of Anesthesiology and Critical Care Medicine. Two years later, he was tapped to serve as interim dean of the medical faculty and vice president for medicine. In 1997, Johns Hopkins University President William Brody, impressed by Miller's tenure as interim dean, appointed him as the Frances Baker Watt, M.D., and Lenox D. Baker Jr., M.D., Dean of the Medical Faculty and the first CEO of the newly formed Johns Hopkins Medicine. He served in those roles for 15 years.
As part of Miller's vision to improve access through the development of a regional, integrated health care delivery system, he brought Howard County General Hospital into the Johns Hopkins Health System. Miller also led the effort to integrate Suburban Hospital and Health System, Sibley Memorial Hospital, and All Children's Hospital in St. Petersburg, Florida. In addition, several suburban outpatient centers were constructed and strategic affiliations were formed with other area hospitals under his leadership.
Also during his tenure, Johns Hopkins Medicine broadened its international presence to include relationships with hospitals and other health care-related institutions in the Americas, Europe, the Middle East, and Asia, including an agreement to help Malaysia develop its first fully integrated private four-year graduate medical school and teaching hospital. Miller became Johns Hopkins Medicine's chief fundraiser, presiding over a campaign that brought in $2.2 billion.
One of his most significant accomplishments was obtaining funding for the rebuilding and renovation projects that transformed the East Baltimore medical campus, including two new state-of-the-art clinical facilities for adult and pediatric patients: the Sheikh Zayed bin Sultan Al Nahyan Cardiovascular and Critical Care Tower, and the Charlotte R. Bloomberg Children's Center at Johns Hopkins. Other important campus construction projects completed under his tenure include clinical and research buildings for the Sidney Kimmel Comprehensive Cancer Center, the Broadway Research Building, the Anne and Mike Armstrong Medical Educational Building, and the Robert H. and Clarice Smith Building that is part of the Wilmer Eye Institute.
Miller assisted the city and state in the development of the East Baltimore Life Sciences and Technology Park. He also strengthened the institutions' commitment to patient and research volunteer safety by establishing the Center for Innovation in Quality Patient Care, and obtained funding to create the Armstrong Institute for Patient Safety and Quality at Johns Hopkins. These programs have been emulated nationally and internationally.
Miller directed the implementation of a diversity initiative. This initiative places diversity and inclusion alongside excellence, integrity, and collegiality as fundamental values within Johns Hopkins Medicine.
Under his direction, the new Genes to Society curriculum was introduced, representing a major revision of the academic program at the school of medicine. The curriculum incorporates advances in new genetic knowledge.
Miller's research focused on the cardiovascular effects of anesthetic drugs and vascular smooth muscle relaxation. The recipient of an NIH Career Research Development Award, he has served as president of the Association of University Anesthesiologists, editor of Anesthesia and Analgesia, and editor of Critical Care Medicine. He served on the board of the International Anesthesia Research Society, and was chairman of the FDA's Advisory Committee on Anesthesia and Life Support Drugs.
Upon Miller's retirement in 2012, Johns Hopkins renamed the Broadway Research Building the Edward D. Miller Research Building in his honor.
Additional Portrait(s) of Edward Doring Miller Jr.
"*" indicates required fields