Paul R. McHugh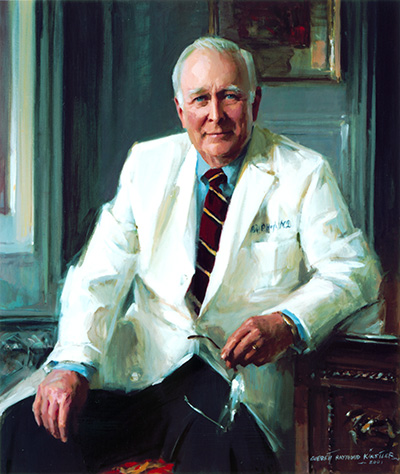 Make a Request
Paul R. McHugh
1931-
McHugh, university distinguished service professor of psychiatry and a chief of psychiatry for Johns Hopkins, was born in Lawrence, Massachusetts. He received his bachelor's degree from Harvard College in 1952 and his medical degree from Harvard Medical School in 1956. McHugh served as an intern at the Peter Bent Brigham Hospital and a neurology resident and neuropathology fellow at the Massachusetts General Hospital.
From 1957 to 1960, during his neurology residency, McHugh was a teaching fellow in neurology and neuropathology. Then, from 1960 to 1961, he was a clinical assistant in psychiatry at the Maudsley Hospital in London. For the next two years, McHugh served as assistant professor, associate professor, and professor of psychiatry and neurology at Cornell University Medical College, then moved to the University of Oregon Health Sciences Center to become professor and chairman of its department of psychiatry.
In 1975, McHugh was appointed Henry Phipps Professor of Psychiatry and chairman of the department of psychiatry and behavioral sciences at the Johns Hopkins University School of Medicine, positions he kept until 2001. He also held a joint appointment as professor of mental hygiene in the Johns Hopkins University School of Hygiene and Public Health. His research has focused on the neuroscientific foundations of motivated behaviors, psychiatric genetics, epidemiology, and neuropsychiatry. In 1992, McHugh assumed the directorship of the Blades Center for Clinical Practice and Research in Alcoholism at Johns Hopkins.
In 1975, McHugh co-authored a paper entitled "Mini-Mental State: A Practical Method for Grading the Cognitive State of Patients for the Clinician," which details the Mini Mental State Exam (MMSE), an exam consisting of just eleven questions that quickly and accurately assesses patients for signs of dementia and other states of cognitive impairment. It is one of the most widely used tests in the mental health field. McHugh and colleague Phillip R. Slavney co-authored The Perspectives of Psychiatry in 1983, which presented the Johns Hopkins approach to psychiatry.
Throughout the 1990s, McHugh was active in debunking the idea of recovered memory, the idea that people could suddenly and spontaneously remember childhood sexual abuse. In 2001, McHugh was appointed by President George W. Bush to the Presidential Council on Bioethics, which was charged with the task of making recommendations as to what the U.S. federal government's policy regarding embryonic stem cells should be. In 2002, McHugh was appointed to a lay panel assembled by the Roman Catholic Church to look into sexual abuse by priests.
The author of more than 125 peer-reviewed articles, McHugh in 1987 was awarded the American College of Physicians' William C. Menninger Memorial Award in recognition of his distinguished contributions to the science of mental health. In 1998, Johns Hopkins dedicated the Paul R. McHugh Chair in Psychiatry, endowed with $1.76 million in contributions from colleagues, friends, and former patients, and held a two-day conference on advances in psychiatry that honored McHugh for his thirty years of contributing to psychiatric education, clinical practice, and research. In 2008, he received the Rhoda and Bernard Sarnat International Award in Mental Health for his lifetime contributions to psychiatry.
"*" indicates required fields