Eli Kennerly Marshall, Jr.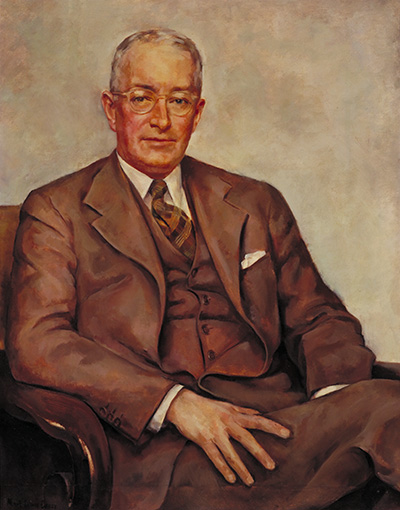 Make a Request
Eli Kennerly Marshall Jr.
1889-1966
Marshall was born in Charleston, South Carolina in 1889. He received his B.S. in 1908 from the College of Charleston. In 1911 and 1917 respectively, he graduated from The Johns Hopkins University with a Ph.D. and an M.D. After earning his Ph.D., Marshall began his career at Johns Hopkins as an instructor in physiological chemistry under Walter Jones. During this time, he developed a method for detecting urea in biological fluids. His investigations brought him to the attention of John Jacob Abel, who invited him in 1913 to join the department of pharmacology.
During World War I, Marshall served as a captain in the Army Medical Corps assigned to the Chemical Warfare Service, where he worked on mustard gas. Upon completion of his military service in 1919, he went to Washington University in St. Louis as a professor and head of the pharmacology department. He returned to Johns Hopkins in 1921 and succeeded William Howell as director of the department of physiology, a position he held until 1932.
Marshall made a number of significant contributions in renal physiology, including his demonstration of secretion by the renal tubules as the mechanism of elimination of phenolsulfonphthalein. He also developed a method for measuring cardiac output, which remained the only method for measuring cardiac output until the introduction of cardiac catheterization.
In 1932, Marshall succeeded John Jacob Abel as professor and director of the department of pharmacology and experimental therapeutics. He began his research in this department by investigating drug-induced respiratory depression. He discovered the role played by anorexia in respiratory depression, revealing the danger of carbon dioxide narcosis when oxygen is administered to patients with chronic pulmonary or cardiac disease.
In the late 1930s, he developed a method for determining the absorption, distribution, and excretion of sulfanilamide in animals and humans. Consequently, rational dose schedules were established for this drug. During World War II, he developed better means of treating malaria. Marshall retired in 1955 and was named professor emeritus of pharmacology and experimental therapeutics. After his retirement, he served as an advisor to the National Cancer Institute. In 1957, he was the key organizer of the centennial celebration of John Jacob Abel's birth.
Marshall was the American editor-in-chief of the Journal of Pharmacology and Experimental Therapeutics from 1932 to 1938. In 1942, he was elected president of the American Society for Pharmacology and Experimental Therapeutics. He was also elected to membership in the National Academy of Sciences, the American Philosophical Society, and the Association of American Physicians. Marshall published over 100 articles and contributed to the book Advances in Chemotherapy.
"*" indicates required fields