William August Marburg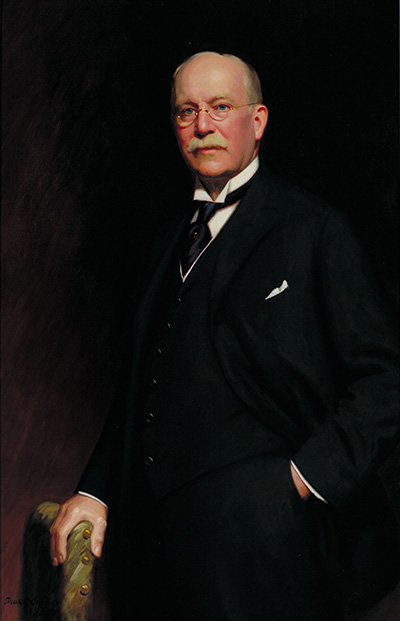 Make a Request
William August Marburg
1849-1931
Marburg, a vice president of the trustees of The Johns Hopkins Hospital and benefactor to the hospital, was born in Baltimore. He was educated at the Knapp's Institute and other private schools in the county. His father William A. Marburg, founded the Marburg Brothers tobacco company, which he joined in 1865. When his father died, Marburg and his brothers inherited the company. They sold the family business to the American Tobacco Co. in 1891, and William Marburg took the post of vice president of that company.
During his long business career in Baltimore, Marburg served on the boards of directors for various financial institutions, including the National Union Bank, the Eutaw Savings Bank and the Baltimore Trust Company. Marburg joined the board of trustees of The Johns Hopkins Hospital in 1901. He served as vice president of the board from 1911 until his death.
In addition to his long service as a valued board member and financial adviser, Marburg donated substantially to the hospital over the years. In 1906, he and his brothers and sister gave $100,000 to the hospital in memory of their late brother Charles Louis Marburg; this was used to fund the renovation of the newly-named Marburg Building, which served private patients.
Marburg successively contributed additional funds totaling over $50,000 to provide for other needs of the building, including much of its equipment. He continued to contribute $5,000 annually to the hospital, and in 1919 donated another $100,000 to set up the Christine Marburg Memorial Fund in honor of his mother. Upon his death, Marburg left a $700,000 trust to The Johns Hopkins Hospital.
Marburg took a great interest in art and collected many fine paintings and sculptures. In 1913, he provided funding for the acquisition of the Jonathan Hutchinson collection of medical illustration, which William Osler procured for Johns Hopkins. Marburg was also a founder of the Municipal Art Society.
"*" indicates required fields