Franklin Paine Mall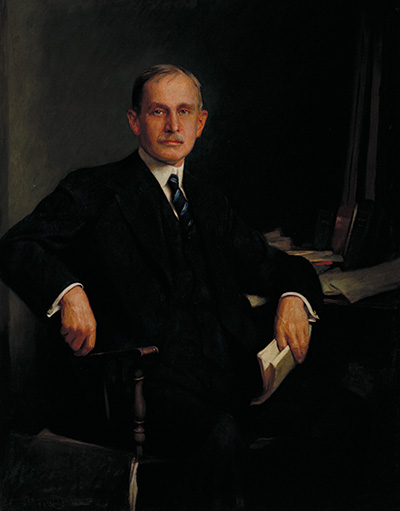 Make a Request
Franklin Paine Mall
1862-1917
Mall, the first professor of anatomy at Johns Hopkins, was born in Belle Plain, Iowa. After receiving his M.D. from the University of Michigan in 1883, he traveled to Germany for postgraduate studies in physiology and embryology. While studying embryology in Leipzig with Wilhelm His, he met William H. Welch, who was visiting in 1885. While in Leipzig, Mall also studied physiology under the direction of Karl Ludwig. When Mall received a fellowship to study with Welch at the new Johns Hopkins pathological laboratory, he departed for Baltimore in 1886.
At the Johns Hopkins pathological laboratory, Mall worked in close collaboration with William Halsted. Together they engaged in studies of the intestines, the anatomy and physiology of the stomach, and the microscopic structure of connective tissue. Their work contributed significantly to Halsted's development of a surgical suturing method for the intestine.
In 1889, Mall accepted the position of adjunct professor of vertebrate anatomy at Clark University. While there, he created one of the first models of an early human embryo in the United States. Although he left Clark in 1892 to join the faculty of the University of Chicago as professor of anatomy, his stay was short lived. Welch recruited Mall in 1893 to serve as the inaugural professor of anatomy at the newly formed Johns Hopkins University School of Medicine.
In developing the teaching program of the department of anatomy, Mall departed from traditional methodologies. Limiting the usual number of didactic lectures, he promoted more options for self-directed learning. He offered projects to students in dissection and research, and encouraged greater interaction between students and instructors. Other universities were soon to adopt his "learning-by-doing" approach.
In 1894, shortly after arriving at Johns Hopkins, Mall married Mabel Glover, a student in the first class of the School of Medicine. After their marriage, Glover dropped out of the medical education program to devote herself fully to marriage and motherhood.
Mall's research at Johns Hopkins focused initially on the gross structure of the liver and spleen. He then concentrated once again on embryology and began developing a collection of human embryos. In 1913, he received a grant from the Carnegie Institution of Washington to develop a department of embryology at Johns Hopkins that he directed until his death in 1917.
While at Johns Hopkins, Mall was active professionally and published extensively. With George Minot and George S. Huntington he co-founded The American Journal of Anatomy in 1900. Mall served as president of the Association of American Anatomists from 1906 to 1908. With Franz Keibel, Mall edited two volumes of the Handbook of Human Embryology from 1910 to 1912.
William S. Halsted, longtime friend of Mall, chaired the committee to raise funds for a portrait of Mall. Upon the recommendation of Alexander Abbott of the University of Pennsylvania, the committee commissioned Leopold G. Seyffert to paint the portrait. When Seyffert completed the painting, it suffered minor damage in transit. Halsted arranged to return the painting to Seyffert in Philadelphia for repair and alterations requested by Mall's wife who was displeased with various features of the portrait. Although Seyffert never fully executed the alterations, the School of Medicine installed the portrait in the Welch Medical Library after its opening in 1929. At Mrs. Mall's urging, Florence Sabin and Simon Flexner commissioned Thomas Corner to paint another portrait of Mall. Corner based this posthumous portrait upon a photograph of Mall that his wife especially cherished.
Frederick L. Gates, a medical student who graduated in 1913, had taken the photograph. In 1933, the School of Medicine installed the new portrait of Mall by Corner and quietly dispatched the Seyffert painting to storage.
Additional Portrait(s) of Franklin Paine Mall
"*" indicates required fields