William George MacCallum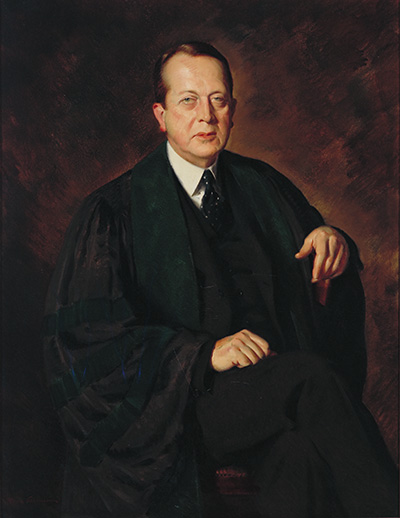 Make a Request
William George MacCallum
1874-1944
MacCallum, a chairman of pathology at Johns Hopkins, was born in Dunnville, Ontario. He received a B.A. from the University of Toronto in 1894. Because of his extensive science coursework during undergraduate study, he was allowed to enter the Johns Hopkins University School of Medicine as a second-year student. He was a member of the first graduating class of the school of medicine in 1897.
MacCallum spent a year as a resident at The Johns Hopkins Hospital and then became an assistant in pathology under William Welch. In 1900, he went to Germany to work in the laboratory of pathologist Felix Marchand in Leipzig. After his return to Baltimore in 1901, MacCallum was appointed resident pathologist at Johns Hopkins, then associate professor of pathology. In 1908, he was promoted to the position of professor of pathological physiology, a chair created especially for him.
From 1909 to 1917, MacCallum served as professor of pathology at the College of Physicians and Surgeons of Columbia University and pathologist to the Presbyterian Hospital of New York. While at Columbia, he reformed New York City's coroner system, replacing coroners with medical examiners who had a medical degree and experience in pathology. In 1917, MacCallum returned to Johns Hopkins as Baxley Professor and chairman of the department of pathology. He was also made chairman of Maryland's State Department of Post Mortem Examiners, instituting changes similar to those he made in New York.
During 1917 and 1918, pneumonia was plaguing Army camps in the United States. MacCallum took this opportunity to study the disease, and subsequent outbreaks of measles and the influenza pandemic during World War I. These studies were later published as a monograph. MacCallum's research covered a wide variety of subjects; his most notable contributions were those relating to malaria and the function of the parathyroid gland. He also demonstrated the function of Islands of Langerhans of the pancreas, which led to an increased understanding of diabetes.
In 1920, the pathology laboratory at Johns Hopkins was destroyed by a fire and MacCallum drew the plans for the new laboratory. He proposed a greenhouse on the roof, an aquarium, and made arrangements for a photography studio. He believed photography to be an essential method for recording pathological material.
MacCallum traveled extensively and used his trips to broaden his knowledge of pathological anatomy. He often performed autopsies or studied local outbreaks of disease in the places he visited. Along with travel, MacCallum had an interest in the history of medicine. He collected rare medical texts and prints and was president of the International Association of Medical Museums.
MacCallum authored the definitive Textbook of Pathology and more than 170 articles, as well as biographical sketches of Hopkins figures and studies in the history of medicine. He was elected to the National Academy of Sciences in 1921 and was an honorary member of several pathology societies in Europe. MacCallum was also a member and past president of the Harvey Society.
"*" indicates required fields