Eugene Davisson Lyon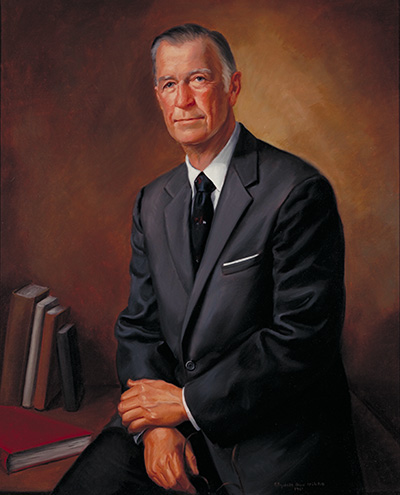 Make a Request
Eugene Davisson Lyon
1913-1997
Lyon, a chief of dentistry and oral surgery at Johns Hopkins, was born in Baltimore, and graduated from The Johns Hopkins University with an A.B. in biology in 1933. After receiving his D.D.S. from the University of Maryland's Baltimore College of Dental Surgery in 1938, Lyon embarked on four years of postdoctoral training in oral surgery at The Johns Hopkins Hospital, and the Mayo Foundation for Medical Education and Research in Minnesota. Lyon earned an M.S. from the University of Minnesota in 1942 and then joined the U.S. Army Dental Corps, serving in the southwestern Pacific with the U.S. Army's 118th General Hospital, the Johns Hopkins unit, until 1946.
Returning to Baltimore after the war, Lyon held the post of associate dental surgeon-in-charge at The Johns Hopkins Hospital. In 1950, he was chosen to head the hospital's division of dentistry and oral and maxillofacial surgery.
In 1965, Lyon became assistant professor of dental surgery and remained in continuous, part-time service at both the hospital and the medical school until 1985. He was the first dentist to achieve faculty status at the Johns Hopkins University School of Medicine. In addition to practicing and teaching his specialty, Lyon fulfilled two administrative roles at Johns Hopkins: he built the hospital's residency program in dental and oral surgery, and also took charge of recruitment and operation of the dental care program associated with the comprehensive child care clinic.
Lyon gained wide recognition from his competence and skill in the clinical management of trauma to the face and jaw, and in reconstructive surgery of these delicate and complex structures. Active in professional and community affairs, Lyon served as a consultant in oral surgery to the National Institutes of Health in Bethesda, the U.S. Public Health Service Hospital in Baltimore, and the Veterans Administration Hospital in Perry Point, Maryland. Lyon also served as chief of oral surgery at St. Agnes Hospital, Union Memorial Hospital, St. Joseph's Hospital, and the Good Samaritan Hospital. He was also active on the staff of Mercy Hospital, Church Home and Hospital, and the Women's Hospital. Lyon also served a four-year term on the board of directors of the Maryland division of the American Cancer Society and, during the 1950s, was president of both the Middle Atlantic Society of Oral Surgeons and the Baltimore City Dental Society.
"*" indicates required fields