Warfield Theobald Longcope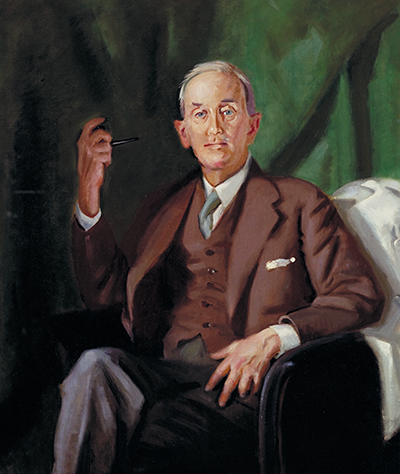 Make a Request
Warfield Theobald Longcope
1877-1953
Longcope, director of the department of medicine and physician-in-chief of The Johns Hopkins Hospital, was born in Baltimore. He graduated from The Johns Hopkins University with an A.B. in 1897 and thereupon entered the Johns Hopkins University School of Medicine receiving his M.D. in 1901. As a student, Longcope was strongly influenced by teachings of William Welch and William Osler, which emphasized the study of pathology as the best foundation for clinical research and practice. Following
rngraduation from medical school, Longcope chose to concentrate on pathology in post-doctoral training.
He served as resident pathologist from 1901 through 1904 at the Ayer Clinical Laboratory of Pennsylvania Hospital in Philadelphia. There he worked under the direction of Simon Flexner, a protégé of William Welch. Appointed director of Ayer Clinical Laboratory in 1904, Loncope oversaw the operation of the laboratory until 1911. From 1909 through 1911, he also held the position of assistant professor of applied medicine at the University of Pennsylvania School of Medicine.
In 1911, he accepted the position of associate professor of medicine at Columbia University's College of Physicians and Surgeons and in 1914 was appointed Bard Professor. Concurrently he held posts at Presbyterian Hospital. He served as associate physician from 1911 until 1914 when he was appointed medical director. While at Columbia he began research of immunological phenomena which included altered tissue responses to foreign agents, and anaphylaxis.
Longcope's tenure at Columbia University and Presbyterian Hospital was interrupted by his service in World War I. He was called to active duty in August, 1917 and first assigned to the Office of the Surgeon General of the Army and later serving as consultant for the American Expeditionary Forces in Europe. From 1917 through 1919, he led studies on influenza and hemolytic streptococcal infections that were besetting the troops. Following the war, he resumed his positions at Columbia and Presbyterian Hospital and continued studies of autoimmune response to antitoxins and antibacterial sera. From February to July 1922, Longcope briefly held appointments as professor of clinical medicine at Cornell University Medical College and visiting physician in the second division of Bellevue Hospital.
rn
rnLater in 1922, Longcope returned to Johns Hopkins as director of the department of medicine in the school of medicine and as physician-in-chief of The Johns Hopkins Hospital. Throughout his career from the Ayler Clinical Laboratory to the University of Pennsylvania, Columbia University, and back to Johns Hopkins he was warmly regarded by fellow faculty and students alike for his mentorship and collaboration. He published extensively on infectious diseases, syphilitic aortitis, Hodgkin's disease, atypical pneumonia, and hypersensitivity. During World War II, he and his associates studied an antagonist for weaponized gasses known as British Anti-Lewisite and after the war contributed to its use in the treatment of metallic poisoning among civilians. Following his retirement in 1946, Longcope continued research on sarcoidosis and in 1952 published a major review article in Medicine with D.G. Freiman on Boeck's Sarcoid.
Active in professional associations throughout his career, Longcope served as president of the Association of American Physicians, the American Society for Clinical Investigation, and the American Association of Immunologists. In 1948, Longcope was awarded the Kober Medal of the Association of American Physicians.
"*" indicates required fields