Donlin Martin Long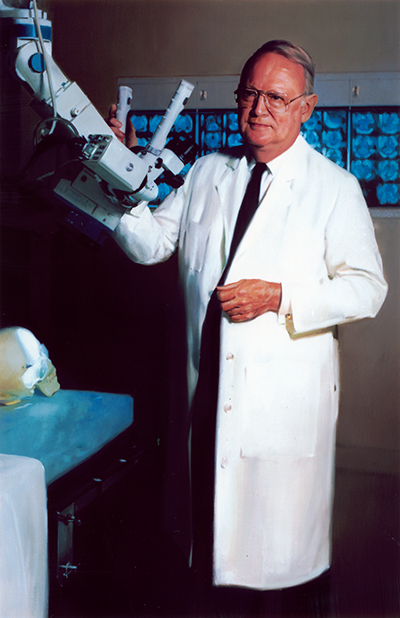 Make a Request
Donlin Martin Long
1934-
Long, a director of neurosurgery at Johns Hopkins, was born in Rolla, Missouri. He attended Jefferson City Junior College from 1951 to 1952 before enrolling at the University of Missouri. He received his B.A. in 1955. Long remained at the University of Missouri for his M.D., graduating from the medical school in 1959. He then spent a year interning in the department of surgery at the University of Minnesota Hospitals in Minneapolis. After his internship, he earned a Ph.D. in neurosurgery and neuroanatomy from the University of Minnesota Graduate School, which he completed in 1964. From 1960 to 1964, while completing his doctorate, he was a resident at the University of Minnesota Health Science Center in the department of neurosurgery. Long then held a residency in the department neurological surgery at the Peter Bent Brigham and Children's Hospital Medical Center in 1965.
After serving in the United States Public Health Service as a clinical associate at the National Institutes of Health's branch of surgical neurology, Long was appointed chief of neurosurgery at the Minneapolis Veterans Administration Hospital in 1967. Then, in 1973, he was recruited to Johns Hopkins to be the first director of the department of neurosurgery, when the division was made an independent section outside the umbrella of the department of surgery. Long held this post until 2000, when he stepped down to devote his time to research, education, and patient care. During his tenure as director, he also held appointments at the Kennedy Krieger Institute and in the Applied Physics Laboratory at The Johns Hopkins University.
His areas of interest include pediatric neurosurgery, skull-base tumors, and the nature and treatment of spinal pain. Long was one of the pioneers of the use of electrostimulation for the treatment of back pain. He was instrumental in developing transcutaneous electrical stimulation (TENS) for clinical practice and designed an implantable peripheral nerve stimulator to aid patients with severe spinal pain. Long founded the Johns Hopkins Blaustein Chronic Pain Clinic, which was funded by former patient Dr. Morton Blaustein.
In 2010, Long retired from Johns Hopkins and opened a private clinical practice in Lutherville, Maryland, with emphasis on diagnosing spinal problems and treating them with non-operative measures. He also consults on issues of legal liability, product development and liability, medical education issues, neuroscience centers, and operating room design.
Long has authored or co-authored over 100 academic articles and served on fifteen editorial boards. He is the recipient of the the Beks Medal and the Ginde Medal. In 2001, he was named a Distinguished Service Professor for the Johns Hopkins University School of Medicine.
"*" indicates required fields