William Wallace Lanahan, Jr.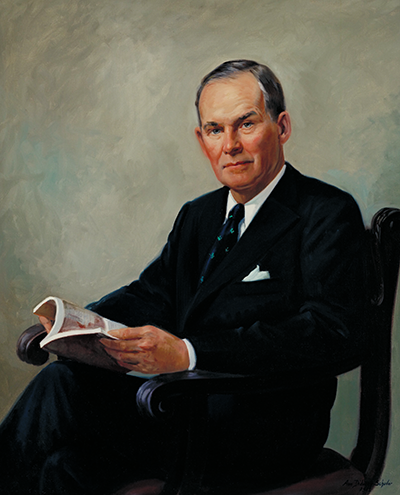 Make a Request
William Wallace Lanahan Jr.
1917-2006
Lanahan, a president of The Johns Hopkins Hospital's board of trustees, was born in Baltimore. He received a bachelor's degree from Princeton University in 1940, then worked as a shipping clerk for a steamship firm in Chile. Lanahan served as a paratrooper for the U.S. Army in Europe during World War II, where he was injured and received a Purple Heart. He retired from the army holding the rank of captain.
Lanahan then joined the State Department and was vice consul in Bahia, Brazil, before returning to Baltimore in 1948 and beginning his career in banking at Merrill Lynch. He became a partner in Stein Brothers & Boyce in 1953, and served as the firm's president from 1965 to 1970. He retired in 1972 as senior vice president of the company's successor, Bache and Co., Inc. During his career, Lanahan also served as governor of the New York Stock Exchange.
Lanahan was chairman of the Greater Baltimore Committee and president of the United Way of Central Maryland. He was a founding trustee of the Francis Scott Key Medical Center, which later became the Johns Hopkins Bayview Medical Center; and a trustee of The Johns Hopkins University. Lanahan was appointed a trustee of The Johns Hopkins Hospital in 1968, and served as its chairman from 1977 until 1981. His father W. Wallace Lanahan, Sr. had also headed the board of trustees from 1947 to 1948.
"*" indicates required fields