Arthur Barfort King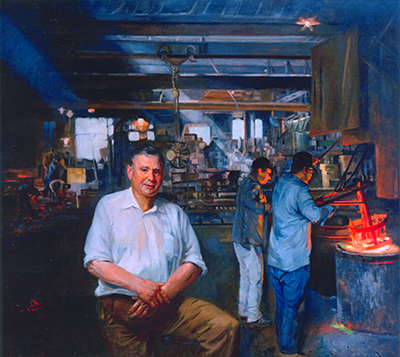 Make a Request
Arthur Barfort King
1914-2001
King, an instructor in neurology at Johns Hopkins, was born in New York City. He received his undergraduate degree from The Johns Hopkins University in 1935 and his medical degree from the Johns Hopkins University School of Medicine in 1939. Following his internship in surgery at The Johns Hopkins Hospital, King served as a neurology resident at Baltimore City Hospitals and assistant resident surgeon at The Johns Hopkins Hospital. He later became assistant resident and resident neurosurgeon at Johns Hopkins from 1946 to 1948.
From 1948 to 1950, King was a neurosurgeon at the Lahey Clinic in Boston. He then moved to the Guthrie Clinic at Robert Packer Hospital in Sayre, Pennsylvania, where he became chief of the section of neurological surgery; he retired in 1979.
King was a fellow of the American College of Surgeons, consultant in neurosurgery, and neurosurgeon at Lehigh Valley Railroad. He had memberships in the American Medical Society, Pennsylvania Medical Society, Research Society of America, Association of Railroad surgeons, Harvey Cushing Society, Philadelphia Neurosurgical Society, Philadelphia Neurological Society, and the Association for Research in Nervous and Mental Diseases. From 1975 to 1976, he served as president of the Mid-Atlantic Neurosurgical Society. During his career he contributed extensively to the literature in the fields of neurology and neurosurgery. King also served in the U.S. Army Reserves from 1935 to 1967, retiring as a colonel of the infantry.
Upon his death, he established the Arthur B. King, M.D. Scholarship Fund to be awarded to Athens Borough, Pennsylvania, high school graduates to help cover their college tuition and on-campus room and board for up to a four-year period. The scholarship is based on academic qualifications, character, extra-curricular activities, community service, and financial eligibility.
"*" indicates required fields