Howard Atwood Kelly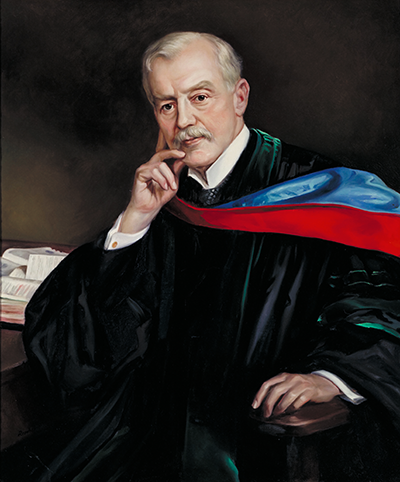 Make a Request
Howard Atwood Kelly
1858-1943
Kelly, the first gynecologist and obstetrician to be appointed to The Johns Hopkins Hospital and the Johns Hopkins University School of Medicine, was born in Camden, New Jersey. Reared in nearby Philadelphia, he attended the University of Pennsylvania receiving his A.B. in 1877 and M.D. in 1882. Kelly conducted postgraduate training at Episcopal Hospital in the Kensington section of Philadelphia from 1882 to 1883. Having become concerned about limitations of available healthcare in Kensington, he opened a clinic in this area after completing his training. In 1887, with financial support from a group of prominent Philadelphia women, he was able to expand the clinic and establish the Kensington Hospital for Women. There he gained renown for his surgical expertise and innovative procedures. To advance his medical knowledge and surgical skills, Kelly frequently traveled to laboratories and clinics in Europe. From 1888 to 1889, he served as assistant professor of obstetrics at the University of Pennsylvania.
When officials of the newly formed Johns Hopkins Hospital recruited William Osler from the University of Pennsylvania, he recommended that Kelly be appointed as gynecologist and obstetrician-in-chief of the hospital and chair of the department of gynecology and obstetrics at the medical school, which was still under development. Kelly served as professor of gynecology and obstetrics from 1889 to 1896 and professor of gynecology from 1899 until 1919, when he resigned his professorship to devote full time to private practice in Baltimore. He was awarded emeritus status at the school of medicine and appointed honorary consultant in gynecology to the hospital, and maintained close ties to Johns Hopkins for the remainder of his career.
As a gynecological and abdominal surgeon Kelly was greatly admired for his quickly executed surgeries and brilliant improvisation of new procedures. He devised techniques, instruments, and equipment for use in both treatment and diagnosis. Most notable are the eponymous Kelly clamp, the Kelly stitch, and the use of radium and roentgen radiation. Using innovative methods in teaching, he expanded the tradition of didactic lectureship with incorporation of clinical examinations, demonstrations, and greater contact with patients over the course of their treatment.
Kelly published a series of significant works, including The Vermiform Appendix and Its Diseases, with Elizabeth Hurdon; Gynecology and Abdominal Surgery, with Charles P. Noble; Medical Gynecology; Myomata of the Uterus, with Thomas S. Cullen; and Diseases of the Kidney, Ureters, and Bladder, with F. R. Burnham. Kelly greatly valued the use of visual materials in his publications. To disseminate examples of surgical procedures, he published a series of stereoscopic slides of operations with step-by-step instructions, the Stereo-Clinic. In addition, he championed the art of medical illustration and incorporated the works of biomedical artist Max Brödel in his many publications. A prolific writer, Kelly also published extensively in areas of medical biography, botany, and the natural sciences.
Widely recognized as the founder of gynecology as a medical and surgical specialty, he received numerous prestigious honors in the United States and Europe. At Johns Hopkins, the gynecological oncology service is named for him in recognition of his contributions toward research and treatment of gynecological cancers.
As a deeply religious man, Kelly actively campaigned against social vices and engaged in a committed course of civic work throughout his life, making generous donations to various causes and institutions. He was particularly magnanimous towards Johns Hopkins, making financial contributions and donating significant collections of medical historical materials including a vast book collection.
Additional Portrait(s) of Howard Atwood Kelly
"*" indicates required fields