Richard James Johns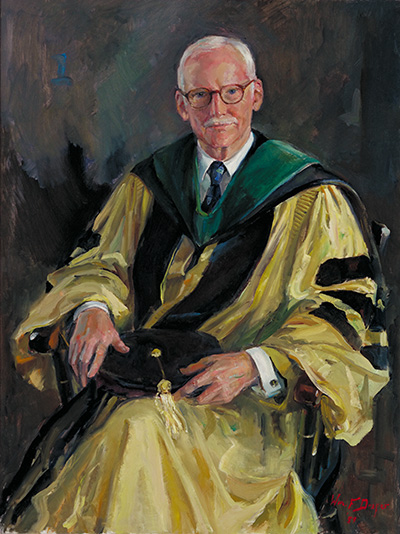 Make a Request
Richard James Johns
1925- 2020
Johns, the founding director of biomedical engineering at Johns Hopkins, was born in Pendleton, Oregon. In 1944, he entered the accelerated medical degree program at Johns Hopkins before completing his undergraduate studies at the University of Oregon. During World War II, Johns Hopkins and other medical schools waived entrance requirements of a baccalaureate degree in order to select highly able undergraduate students for accelerated medical training. Although Johns had completed course requirements for a baccalaureate degree in physics in 1944 at the University of Oregon, he lacked enough other coursework to graduate. In 1947, the University of Oregon accepted his basic science courses at Johns Hopkins as fulfillment of additional credits and awarded him a B.S. degree. He received his medical degree in 1948 from the Johns Hopkins University School of Medicine and began serving an internship at The Johns Hopkins Hospital. After completing his internship in 1949, he served in the U.S. Army Medical Corps for two years at the Army Chemical Center. Johns returned to Johns Hopkins in 1951 for his residency in medicine and held a post-doctoral fellowship from 1953 to 1955, conducting research on human disorders of neuromuscular transmission.
In 1955, Johns accepted an appointment to the faculty of the school of medicine as an instructor in the department of medicine. He rose through the ranks to become professor of medicine and director of the sub-department of biomedical engineering in 1966, and member of the principal professional staff at the university's Applied Physics Laboratory in 1967. The biomedical engineering teaching and research program at the school of medicine was one of the first of its kind. An emerging specialty, its focus was development of new tools to advance research and clinical applications. Johns' early research concentrated on development of devices for physiological measurements and a three-dimensional radiography system.
The sub-department of biomedical engineering, co-founded by Samuel Talbot and A. McGehee Harvey in 1961, was elevated to full departmental status in 1970 with Johns as director. Through Johns' leadership, the department expanded to include research in areas of hearing, speech, cardiovascular control, and myocardial mechanics. He fostered multidisciplinary collaborations within the school of medicine and other divisions of the university as well. Taking the lead in developing new biomedical engineering training and research programs for medical students, undergraduate students, and post-doctoral fellows, Johns built one of the largest and most dynamic departments in the country. Retiring as department director in 1991, he received the appointment of Distinguished Service Professor of Biomedical Engineering.
Johns' many honors include the 1984 Centennial Medal of the Institute of Electrical and Electronics Engineers for "deserving of special recognition for extraordinary achievement," and the Career Achievement Award from the Engineering in Medicine and Biological Society in 1990 for "outstanding contribution and achievement in the fields of Biomedical Engineering."
"*" indicates required fields