Carol Johnson Johns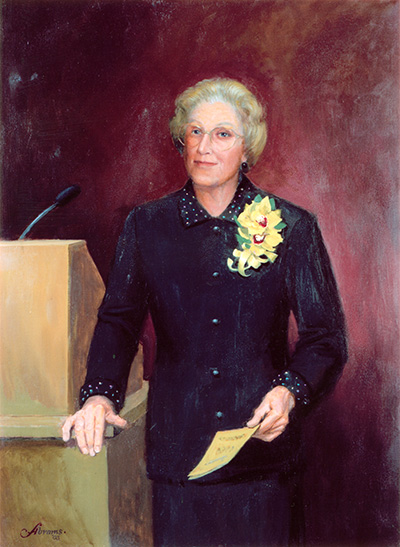 Make a Request
Carol Johnson Johns
1923-2000
Johns, a specialist in lung disease at Johns Hopkins, was born in Baltimore and grew up in Coatesville, Pennsylvania. She received her B.A. degree in chemistry from Wellesley College in 1944. Following graduation, Johns worked as a research assistant in Birmingham, Alabama from 1944 to 1946 in the nutrition clinic of Hillman Hospital under the direction Dr. Thomas Spies, an authority on pellagra. She entered the Johns Hopkins University School of Medicine in 1946 and received her M.D. in 1950.
Johns continued post-graduate training at The Johns Hopkins Hospital on the Osler Medical Service. She completed her internship in 1951 and residency in 1953. At the school of medicine, she served as an assistant in medicine from 1951 to 1958 and instructor from 1958 to 1967. She rose to associate professor in 1971, and was named University Distinguished Service Professor in 2000.
During her nearly fifty-year career at Johns Hopkins, she focused primarily on lung diseases, becoming an international authority on tuberculosis and sarcoidosis. Johns founded the Johns Hopkins sarcoid clinic and served as its director from 1962 to 1979 and 1981 to 1993. She assumed leadership roles at both the hospital and the school of medicine, chairing various committees and boards. From 1981 to 1993, she served as assistant dean and director of continuing medical education.
Throughout her career, Johns fostered the professional development of women students and faculty at Johns Hopkins and opened the door to new opportunities for women physicians in medical associations on a city, state, and national level. In 1974, the Medical College of Pennsylvania named Johns as Medical Woman of the Year. Elected in 1984 as the first woman member of the American Clinical and Climatological Association, she went on to become the association's first woman president in 1989.
Deeply committed to the academic mission of Wellesley College, Johns was a trustee for the college for over eighteen years. Appointed acting president of Wellesley College in 1979, she served in that capacity for eighteen months. Johns was also actively involved with the Uniformed Services University of the Health Sciences, serving as a regent from 1985 to 2000. From 1989 to 2000, she was vice chair of the board of regents.
"*" indicates required fields