John Howard Yardley and John Kersh Boitnott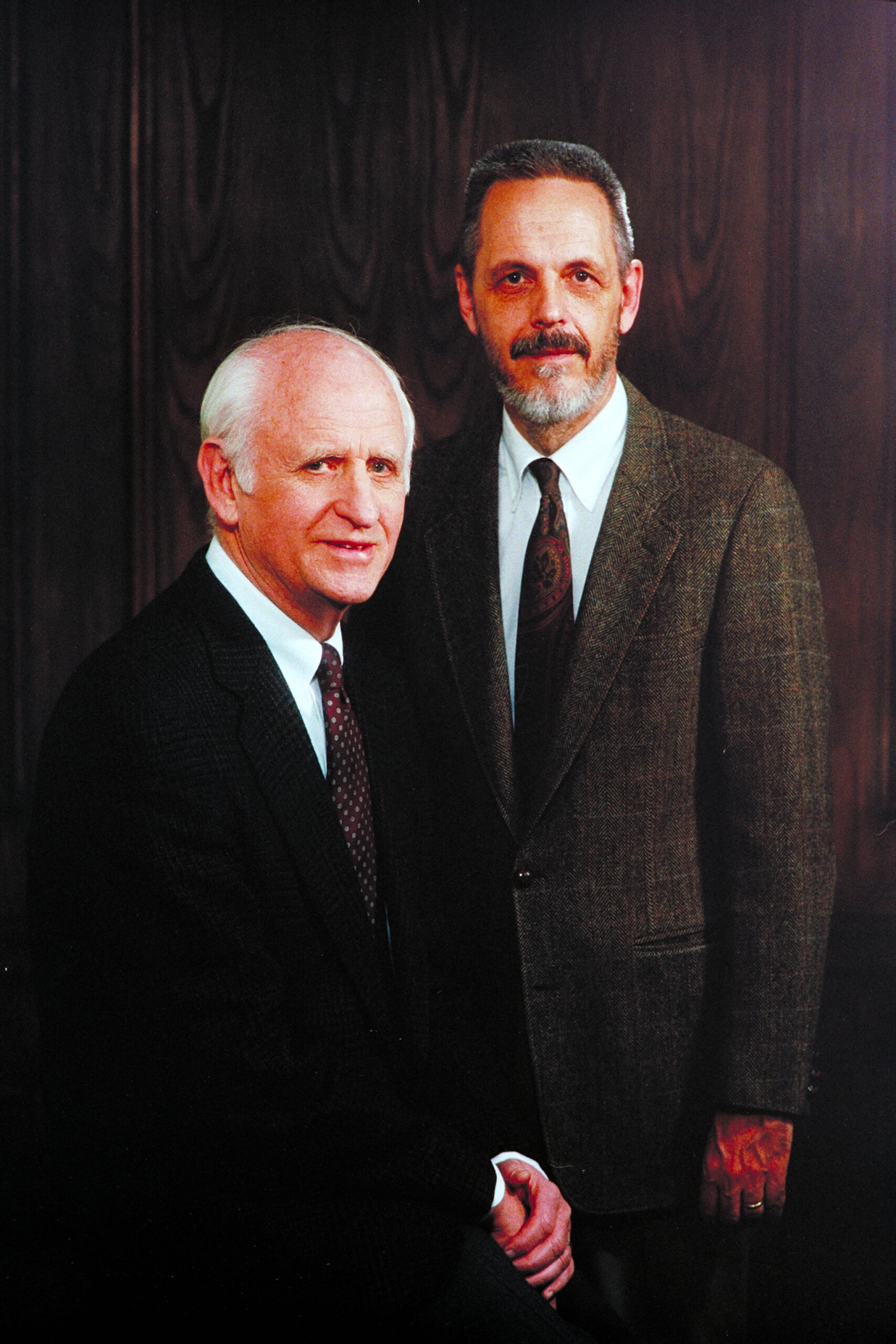 Make a Request
John Howard Yardley
1926-2011
John "Jack" Yardley, a director of pathology and associate dean for academic affairs at Johns Hopkins, was born in Columbia, South Carolina. From 1944 to 1946, he served in the U.S. Navy as an electrician's mate. He earned his bachelor's degree in chemistry from Birmingham-Southern College in Alabama in 1949, and his medical degree from Johns Hopkins in 1953.
From 1953 to 1954, he was an intern at Vanderbilt University Hospital, and returned to Baltimore in 1954, when he was named an assistant resident in pathology at The Johns Hopkins Hospital. He served as associate pathologist from 1954 to 1955, and as chief resident of pathology from 1957 to 1958. Yardley joined the faculty at the Johns Hopkins University School of Medicine in 1955 and rose through the academic ranks, eventually becoming Baxley Professor and co-chair of the department of pathology, serving concurrently with John K. Boitnott. At the school of medicine, he also served as assistant dean for admissions from 1968 to 1970, and associate dean for academic affairs from 1977 until 1984.
Yardley was a pioneer in the field of gastrointestinal pathology. He made important contributions to the understanding of Whipple's disease of the gastrointestinal tract and the classification of neoplastic dysplasia in the colon and esophagus. In 1986, he and a team of pathologists and gastroenterologists identified many patients with a rare, treatable bowel disease called collagenous colitis, marked by the buildup of a thick layer of collagen in the colon. He also developed a standardized diagnostic system to interpret cancerous changes in ulcerative colitis.
At Johns Hopkins, Yardley established the gastrointestinal/liver fellowship program in the 1960s, which helped to promote research and advanced training in gastrointestinal disease. In 1999, the fellowship was endowed and named the John H. Yardley Fellowship in Gastrointestinal Pathology in recognition of his years of research and teaching. He was a prolific researcher and author of more than 120 articles and case studies, as well as twenty book chapters.
Yardley helped show that the molecular understanding of diseases such as colorectal cancer could be made only through the integration of pathology and molecular biology. He expanded the educational offerings of the department of pathology and with Boitnott dramatically increased the research space available to the department and increased the role of Ph.D. scientists in pathology. He retired from the department in 2006.
John Kersh Boitnott
1932-
Boitnott, a professor of pathology and pathologist-in-chief at Johns Hopkins, was born in Charlottesville, Virginia. He earned his bachelor's degree from Bridgewater College in Virginia in 1953 and his medical degree from Johns Hopkins in 1957. Following an internship in medicine and a fellowship in pathology at Johns Hopkins, Boitnott joined the faculty in 1963 as an instructor. He also served in the United States Naval Reserve from 1959 to 1969.
Boitnott was named deputy director of pathology in 1979 and received the school of medicine's Professor's Award for Excellence in Preclinical Teaching. In 1988, he was named pathologist-in-chief for The Johns Hopkins Hospital and co-chaired the department of pathology with John Yardley until 1992. Together, Boitnott and Yardley dramatically increased the research space available to the department and increased the role of Ph.D. scientists in pathology.
Boitnott's primary area of clinical expertise has been liver disease, a field in which he is considered a pioneer, with a related interest in diseases of the biliary tract and pancreas. Most of his work involved collaborative clinico-pathologic studies. He stressed the importance of medical informatics to clinical service, research, and teaching in anatomic pathology. Boitnott has authored over 100 publications in his field. He is a member of the American Association for the Study of Liver Disease, the International Academy of Pathology, the Alpha Omega Alpha Honor Medical Society, and the Johns Hopkins Medical and Surgical Association.
"*" indicates required fields