Robert Douglas Jeffs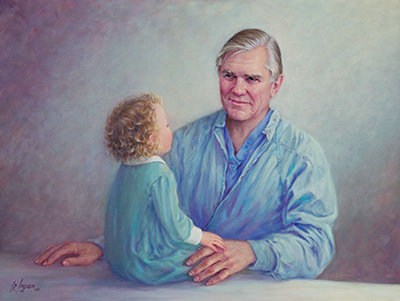 Make a Request
Robert Douglas Jeffs
1924-2006
Jeffs, the founding director of pediatric urology at Johns Hopkins, was born and raised in Toronto. Having begun undergraduate studies at the University of Toronto, the call to serve in World War II interrupted his pre-medical education. In 1943, Jeffs joined the Royal Canadian Air Force and trained as a pilot. After the war, he returned to the University of Toronto to complete his undergraduate and medical degrees. He then went on to serve an internship at Toronto Western Hospital in 1949.
In 1950, Jeffs joined the faculty of the University of Toronto as a demonstrator of anatomy. He served as a resident in plastic and neurosurgery in 1952 at Sunnybrook Hospital in Toronto and as a senior resident in urology at Toronto Western Hospital that same year. In 1953, he was appointed senior resident in general surgery at Toronto Western Hospital. He then held a residency in urology in 1954 and a residency in general surgery in 1955, both at Toronto General Hospital.
In 1956, he was awarded the McLaughlin Traveling Fellowship which enabled him to study for nine months with Sir David Innes Williams at the Great Ormond Street Children's Hospital in London. It was there that he began concentrated studies in pediatric urology. In 1957, Jeffs assumed the position of pediatric urologist at the Hospital for Sick Children in Toronto and also joined the staff of Toronto Western Hospital. While at the Hospital for Sick Children, he and his colleagues pioneered new surgical procedures for ileal conduit, the reimplantation, and the dismembered pyeloplasty, and closed the first exstrophy in Toronto. They introduced peritoneal dialysis and began a large series of children's kidney transplants. Jeffs was also involved in planning a center for the rehabilitation of children with spina bifida and other conditions. He remained at the Hospital for Sick Children and Toronto Western Hospital until 1975, when he was recruited as professor and director of pediatric urology at Johns Hopkins.
Jeffs led pediatric urology at Johns Hopkins for over twenty years, continuing groundbreaking treatment of urogenital malformations in children. He was considered a leading expert in the treatment of bladder and cloacal exstrophies, congenital kidney malformations, ureter abnormalities, pediatric testicular tumors, Wilms tumor, and polycystic kidney disease. In addition to being a brilliant surgeon, he was highly regarded as a mentor to faculty and students, and as a warm and generous caregiver.
He published extensively and was in demand as a visiting professor and lecturer. Jeffs was elected chairman of the urology section of the American Academy of Pediatrics. In 2000, the American Academy of Pediatrics awarded him the Pediatric Urology Medal for having "significantly and positively influenced the care of children with genitourinary problems throughout the world." In 2010, the Brady Urological Institute and the Zanvyl and Isabelle Krieger Fund honored him with the establishment of the Robert D. Jeffs, M.D. Professorship in Pediatric Urology.
"*" indicates required fields