Theodore Caldwell Janeway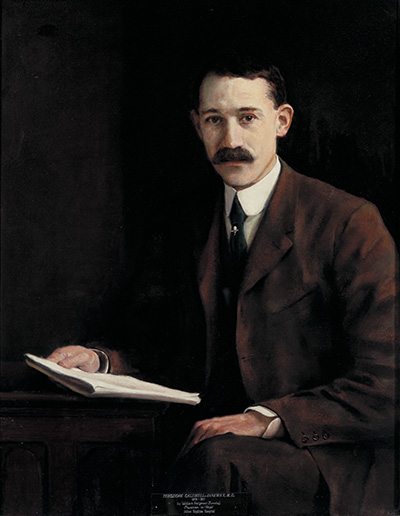 Make a Request
Theodore Caldwell Janeway
1872-1917
Janeway, a director of the department of medicine, was born in New York City. He received his A.B. in 1892 from the Sheffield Scientific School of Yale University and his M.D. in 1895 from the College of Physicians and Surgeons of Columbia University. Following his graduation from Columbia, he served on the staff of City Hospital and St. Luke's Hospital in New York and joined the faculty of the College of Physicians and Surgeons and Bellevue Medical College where his father, Edward Gamaliel Janeway was dean.
While building an academic career in New York, Janeway also maintained a lucrative private practice. He was highly regarded for his strength as a clinician, teacher, and researcher. His early research concentrated on the use of the sphygmomanometer as an instrument for diagnosis and prognosis of cardiovascular pathologies. He focused on improving the accuracy of the sphygmomanometer and determining norms for blood pressure. In 1904, he published The Clinical Study of Blood-Pressure: A Guide to the Use of the Sphygmomanometer in Medical, Surgical, and Obstetrical Practice,
with a Summary of the Experimental and Clinical Facts Relating to the Blood-Pressure in Health and in Disease – a major work on the application of blood pressure measurement in research and clinical practice. He was appointed Bard Professor of Medicine at the College of Physicians and Surgeons in 1909.
Johns Hopkins recruited Janeway in 1914 to direct the department of medicine. He was one of the first professors to be hired under the recently introduced fulltime plan which required faculty to accept a set salary and to turn over all fees from services to the school of medicine. His major contributions at Johns Hopkins included planning the New Hunterian Laboratory for experimental surgery and medicine; improving facilities for research; establishing a heart station for evaluation of cardiac cases; obtaining funds for tuberculosis research; and conducting further research of hypertension.
In the spring of 1917, Janeway resigned his position at Johns Hopkins and joined the U.S. Army to assist with the war effort. He was appointed Assistant to the Surgeon General and Director of Research on Heart Disease, attaining the rank of Major. While studying the development of infections among recruits, he became ill with pneumonia and died of pneumococcal sepsis on December 27, 1917 at the age of forty-six. Although his untimely death cut short a promising career, he left significant contributions to the field of medicine.
"*" indicates required fields