Jay Brooks Jackson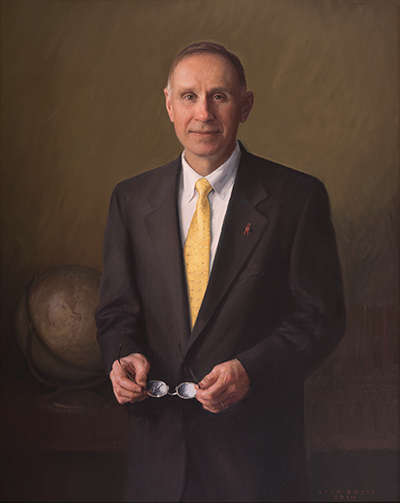 Make a Request
Jay Brooks Jackson
1953-
Jackson, a director of pathology at Johns Hopkins, was born in Cincinnati. He earned a bachelor's degree in history from Kenyon College in 1975; an M.B.A. from Dartmouth College in 1977; and a medical degree from Dartmouth Medical School in 1982. Following a residency in clinical pathology at the University of Minnesota, Jackson served for one year as a blood bank fellow with the university's department of laboratory medicine and pathology.
In 1985, Jackson joined the faculty at the University of Minnesota as assistant professor of laboratory medicine and pathology. From 1989 to 1997, he was associate professor of pathology and then professor of pathology at Case Western Reserve University School of Medicine.
In 1996, Jackson moved to Johns Hopkins to become professor and deputy director of pathology for clinical affairs. In 2000, he was named interim director of the department, and from 2001 to 2013, served as Baxley Professor and Director of Pathology for the Johns Hopkins University School of Medicine, and pathologist-in-chief for The Johns Hopkins Hospital. Under his leadership, the department achieved and maintained a first-place ranking in National Institutes of Health funding, raised significant philanthropic support, and improved faculty diversity. In 2014, Jackson was appointed dean of the Carver College of Medicine and vice president for medical affairs at the University of Minnesota.
An internationally recognized researcher in HIV diagnostics, prevention, and treatment, Jackson and his colleagues made significant advances in HIV prevention in developing countries, and published approximately 200 peer-reviewed papers about HIV prevention and treatment research conducted in the United States, Uganda, and China. Jackson served as principal investigator of the $500 million, National Institutes of Health-funded, International Maternal Pediatric Adolescent AIDS Clinical Trials (IMPAACT) Network. His work resulted in new drug development and a project to prevent neonatal HIV transmission. The method has saved thousands of infants from starting life with HIV infection.
Jackson has been an editorial board member for The Hopkins HIV Report, American Journal of Clinical Pathology, and Practical Reviews in Pathology. He also chaired the U.S. Food and Drug Administration's Blood Products Committee. Jackson is a member of the American Association of Blood Banks, the College of American Pathology, the American Association for the Advancement of Science, and several other professional organizations.
"*" indicates required fields