David S. Hungerford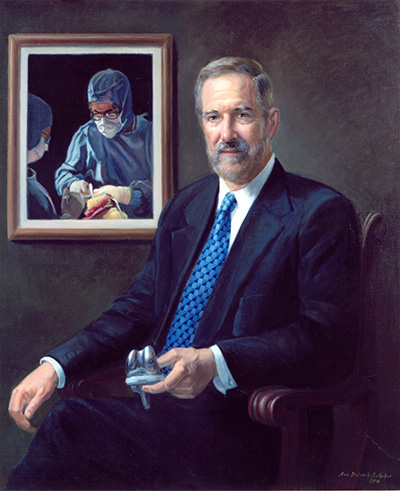 Make a Request
David S. Hungerford
1938-2019
Hungerford, a professor in the department of orthopaedic surgery at Johns Hopkins, was born in Rochester, New York. In 1960 he received his B.A. from Colgate University. From 1961 through 1962, he studied neurophysiology in Paris at Institut Claude Bernard as a U.S. Public Health Service post-graduate fellow. In 1964 Hungerford received his M.D. from the University of Rochester School of Medicine. Following medical school, he completed a combined medical/surgical internship and a surgical residency at Strong Memorial Hospital at the University of Rochester.
Hungerford served as an orthopaedic surgeon with the U.S. Army Medical Corps in Germany from 1966 through 1969, rising from captain to major at discharge. Following military service, he continued post-graduate specialization in orthopaedic surgery for two years at the Nuffield Orthopaedic Centre in Oxford, England. He served as Girdlestone Fellow from 1969-1970 and as registrar in orthopaedic surgery from 1970-1971. Returning to the United States, he completed a residency in orthopaedic surgery in 1972 at The Johns Hopkins Hospital.
He was appointed to the faculty of the Johns Hopkins University School of Medicine in 1972 as assistant professor of orthopaedic surgery; chief of The Johns Hopkins Hospital's scoliosis clinic; and chief of orthopaedic surgery at The Good Samaritan Hospital. In 1979 he was promoted to chief of the division of arthritis surgery at Johns Hopkins and rose to full professor in 1986. Good Samaritan Hospital and grateful patients established the David S. Hungerford M.D. Professorship in Orthopaedic Surgery at the John Hopkins University School of Medicine in 2000.
Considered a foremost hip and joint specialist, Hungerford focused his research and clinical work on total joint replacement, revision surgeries, diagnosis and treatment of osteonecrosis, and cartilage regeneration. He and Robert Kenna developed a porous coated anatomic total knee replacement and presented results of its two-year use in 1982. This artificial knee replacement allowed patients' bone cells to grow into the prosthesis, resulting in a more stable joint. In addition to his own professional accomplishments, he is credited with assembling a leading arthritis division at the School of Medicine.
Hungerford completed short-term mission trips to train orthopaedic surgeons in Zambia, Ethiopia, Kenya, Ghana, and Liberia in procedures on behalf of CURE International and other organizations. He served on the board of other nonprofit organizations that provide medical equipment and training programs to disaster areas and mission hospitals in developing countries. Hungerford helped create more than ten hospitals in Latin America, Africa, the Middle East, and the Caribbean and provided state-of-the-art hip and knee surgeries in some of the poorest countries to the neediest patients. These facilities now serve millions.
He retired from Johns Hopkins and Good Samaritan in 2011, but continued to participate in programs around the world to perform surgery in mission hospitals, and train local orthopaedic surgeons, nurses, physical therapists, and other healthcare professionals in the latest surgical techniques as well as ways to improve their patients' quality of life pre- and postoperatively. The Hungerford family's Tree of Life Foundation has provided more than 1,500 grants to fund capital resource projects in support of health programs such as digging wells to provide clean water sources in impoverished communities. Hungerford also was involved in Baltimore city rescue missions, job training programs, and educational endeavors for the underprivileged.
In 2013, Hungerford received the Humanitarian Award of the American Academy of Orthopaedic Surgeons for having distinguished himself through outstanding humanitarian services in musculoskeletal-related care. Johns Hopkins University Trustees honored Hungerford with the title of professor emeritus in 2014.
"*" indicates required fields