John Howland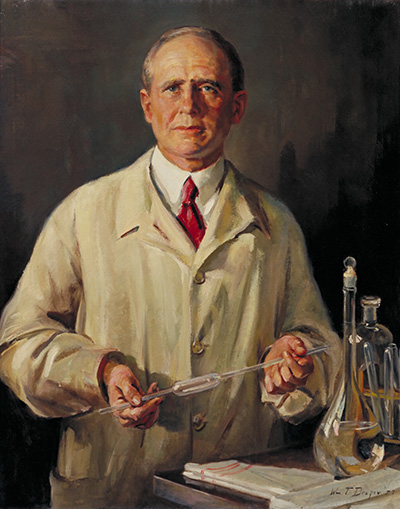 Make a Request
John Howland
1873-1926
Howland, a director of pediatrics at Johns Hopkins, was born in New York City. He received a B.A. from Yale University in 1894; an M.D. from the New York University College of Medicine in 1897; another M.D. from Cornell University in 1899; and an A.M. from Yale in 1914. Howland served as a house officer at Presbyterian Hospital from 1897 through 1899 and at New York Foundling Hospital from 1899 to 1900.
He went abroad in 1900 to conduct postgraduate studies in pathology and pediatric diseases in Berlin and Vienna, returning to New York in 1902. Howland entered private practice with the eminent pediatrician L. Emmett Holt, Sr. while also serving as attending physician at Willard Parker Hospital and New York Foundling Hospital; visiting physician at St. Vincent's Hospital; and instructor and associate in pediatrics at the College of Physicians and Surgeons. Over the next eight years Howland rose to professional prominence for research, teaching, and clinical care in pediatrics.
In 1910, Washington University School of Medicine offered Howland its chair of pediatrics. In preparation for accepting this new position, Howland went to Germany to study with Adalbert Czerny who was regarded as the leading pediatrician of the pre-war era. Upon completion of his work with Czerny in 1911, he assumed the professorship of pediatrics at Washington University but stayed less than a year. In 1912, he was appointed professor of pediatrics at the Johns Hopkins University School of Medicine; pediatrician-in chief of The Johns Hopkins Hospital; and director of the Harriet Lane Home for Invalid Children when it opened in October, 1912.
Whereas Clemens von Pirquet had directed planning of the Harriet Lane Home and oversaw its construction, he left Johns Hopkins just as the building was being completed. Howland thus inherited the directorship of the first children's clinic in the United States to be affiliated with a medical school. At Harriet Lane, Howland promoted a scientific approach to the study and treatment of pediatric disorders and diseases, utilizing laboratory research and quantitative studies. All faculty members were full time and required to spend fifty percent of their time in research.
Howland's research focused on the prevailing childhood illnesses of the era, concentrating primarily on diarrhea and acidosis. With colleagues at Harriet Lane he demonstrated that tetany was caused by hypocalcemia and alkalosis, and that both hypophosphatemia and hypocalcemia and are found in rickets. Highly regarded as a teacher and mentor, Howland fostered the careers of many prominent pediatricians. Moreover, he was a superb clinician with expert diagnostic skills.
In 1951, the American Pediatric Society established the John Howland Award, its most prestigious honor. It is annually bestowed upon an individual whose contributions have advanced the field of pediatrics.
"*" indicates required fields